Amsterdam/Paris live blog
14.20: Right, it's time for km to head to the station to catch the train back to London, leaving the band here to play the Olympia show tonight. We'll leave you with a Tom's eye view of the venue. Thanks again for reading, commenting and emailing. See you for another live blog soon. Au revoir!
14.13: Here's the fellas in the dressing room just now (Tom's gone out for a wander)
13.38: Some more photos of tonight's Paris venue...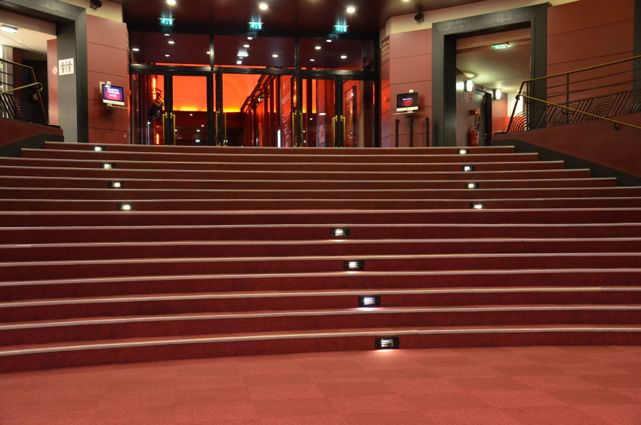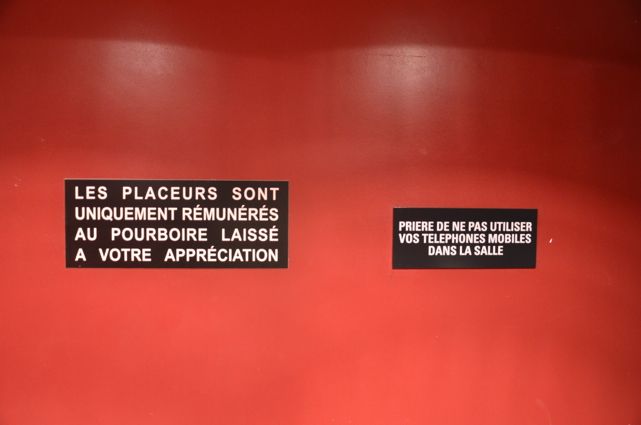 12.45: Just been for that wander to a coffee shop with Beth. On the way, we passed the front of the venue (fans have already started arriving).
11.45: Beth's still busy, so we just popped outside and did a quick lap of the Olympia to take some photos and give you a little French flavour. And here they are...
Folks do seem to enjoy a smoke in Paris.
11.32: For those asking, Tom was the first of the band to get up this morning. And then Richard. We've not seen Tim and Jesse yet. Although, of course, they may have snuck out to do some sightseeing when we weren't looking.
11.31: Beth has been briefly diverted by something else, so our coffee trip is delayed. In the meantime, here's a photo of a lot of Keane boxes which no doubt have a lot of complicated Keane stuff in them.
11.25: As ever, feel free to drop us a line to ontour@keanemusic.com (as Corina did - to explain that she was behind last night's sock giving! Apparently she also threw socks onto the stage at the band's Amsterdam show in 2005, having read Tom saying he needed new socks in an interview.)
11.22: Here's a pic of the crew, busily setting up the stage for tonight (all of which has arrived overnight from Amsterdam). "Two very full trucks," says Colin. And with that, we're going to pop outside the venue to take a few photos of Paris (and accompany Beth to grab a coffee).
11.18: When the Killers sang about "glamourous indie rock n roll", they may have been talking about sights like this. On the other hand, they may not.
11.16: For the record, today is Keane's 11th show in Paris - as you can see in our Live Archive, here. The band played at the Olympia back in March 2005, when, Colin tells us, they were supported by Rufus Wainwright. Apparently Colin remembers this because he recalls seeing Rufus's manager doing "samurai sword dancing" in the carpark. Which is. indeed, quite memorable. Support tonight comes from AGOP.
11.10: Today's show is another sellout, at the 3,000-capacity Olympia. It's quite ornate.
11.08: The view from the tourbus this morning. Ah, Parisian glamour.
17 October, 11.00: Good morning! Or, indeed, bonjour! We've made it to Paris and we've taken a few pictures (km is not off to tonight's Paris show, but we'll share pictures with you until we head off back to London). Here's a couple from the tourbus last night, including one of Tom pointing at a true British hero...
16 October, 23.39: And with that, we'll bid you goodnight - but we're joining the band on the bus overnight to Paris, so there should be a few more photos to post tomorrow (although not from the Paris show). Huge thanks to everyone who's read the blog, and the many hundreds of you who've emailed in and commented. You lot really are incredible and Keane are very lucky to have you.
And so to our bunk...
23.30: And, as well as opening his new socks, Richard has already sorted out his hi-res crowd shot for tonight's show. Here it is. Click on the picture for the full-size version.
23.23: Richard has opened the socks he swapped his drumsticks for. Niiice.
23.00: As promised, here's tonight's setlist...
22.53: And, after a rousing second encore of Under Pressure, it was goodbye from Keane. Great night, great show.
22.51: Remember the sign from earlier asking Richard to swap his drumsticks for socks? Well, he gave them his drumsticks and, sure enough, they gave him four pairs of gift-wrapped socks. Superb.
22.48: It's fair to say that the crowd enjoyed themselves tonight.
22.47: Tim 'n Tom
22.45: The view from the back of stage left...
22.44: The show is done. The band are very happy with how it went. And there are more photos on their way.
22.28: After the main set, before the encore...
22.26: More live shots, mainly from Bedshaped...
Turning the mic on the crowd for them to bellow along...
22.22: Back again, with a memory card bursting with pictures for you...
22.14: But I don't *have* any signs. :-(
Oh, and thanks to Annika for letting us know about the England match being called off because of rain in Warsaw.
22.13: It's a great venue, by the way. Very much recommend you coming to a show here if you have the chance.
22.10: The view from the balcony.
22.08: More pictures coming in two shakes of a tick...
21.58: Thanks for all the emails / comments you're sending / posting, by the way, We're a bit busy rushing between stage and laptop to read very many now - but, for those asking, we will post the full setlist after the show.
21.54: Here's some more photos from the show, which is going down an absolute storm with the people of Amsterdam.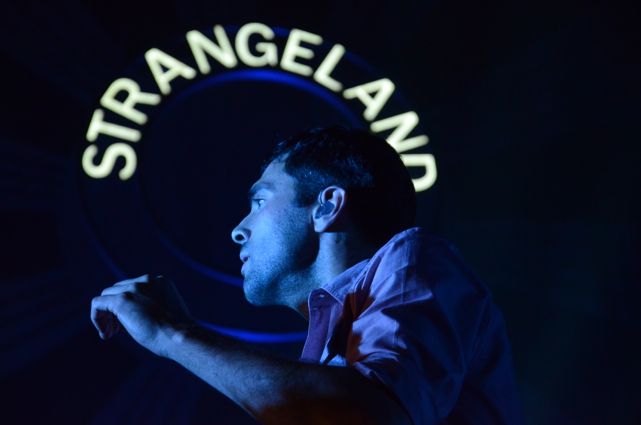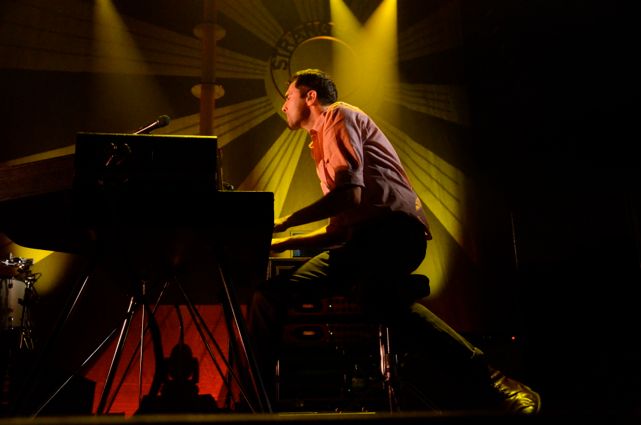 It's a tempting offer...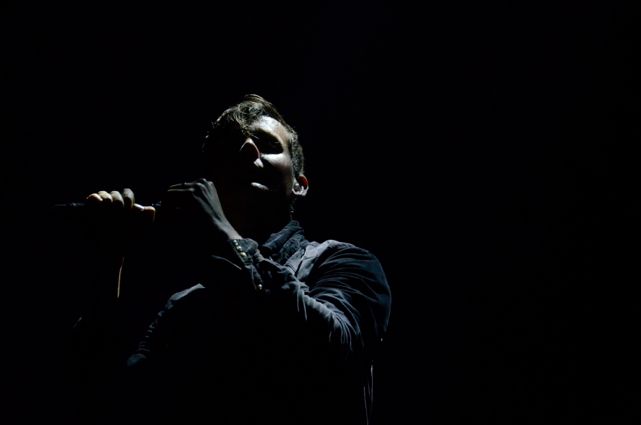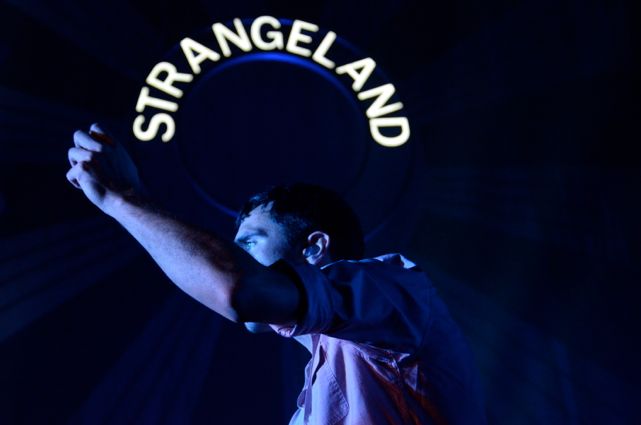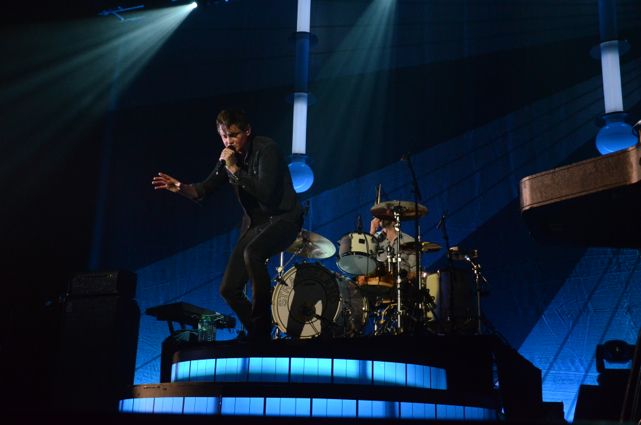 21.45: We're back. More photos coming...
21.28: We'll pop off and take some more...
21.24: Some photos from the first couple of songs...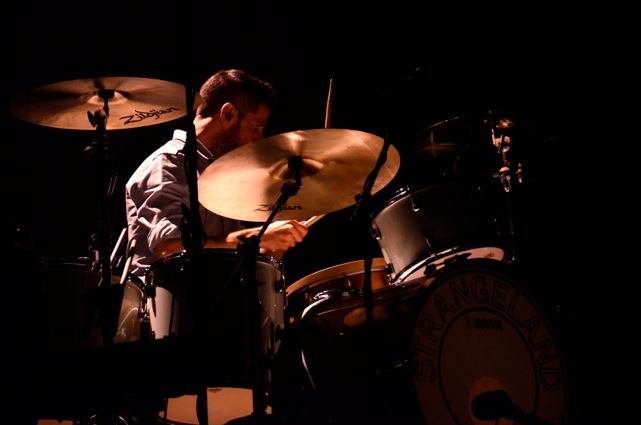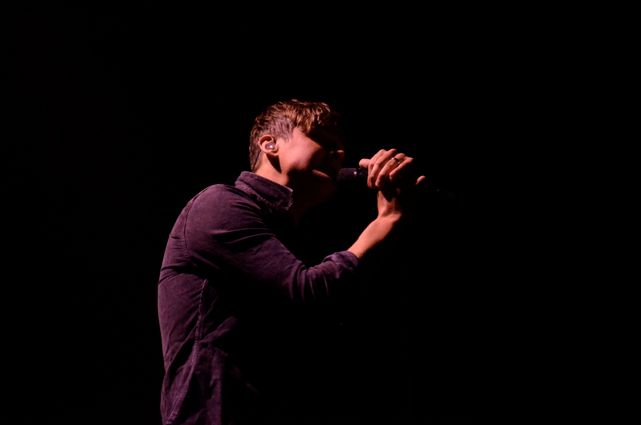 21.17: Here they are, going on stage...
21.12: From the dressing room to the stage (being filmed by a Dutch TV crew)
21.10: The band are on. They just played You Are Young and then Bend & Break and the crowd are going bonkers. Photos coming....
20.55: Right, they're on in five minutes. We'd best go and take some photos of them taking the stage and wotnot. We'll be back before too long with those pics and some live shots...
20.48: Stage time in 12 minutes. Last minute preparations are go...
20.34: Saskia - who we wished a happy 21st birthday to earlier - is in the building! (She's in the middle with the red hair.) Liking the hats!
20.30: Annika is reading the live blog while she watches the German national football team play. Impressive multi-tasking. Let us know if you hear the England score...
20.25: Juli has emailed ontour@keanemusic.com to ask if Beth picks the band's stage outfits. We asked Beth. She laughed. No, definitely not.
20.21: Here are the pictures of Zulu Winter...
(Love that woolly hat)
20.16: And we're back. Zulu Winter photos coming...
20.04: Tonight's support act, Zulu Winter, have just come on. Off to take a few snaps...
20.02: The band are currently chilling in the dressing room. They all seem in very good spirits today. Which is nice.
20.00: ONE HOUR UNTIL KEANE SHOW TIME
19.53: The view from Richard's drum riser just now. It's looking pretty full already...
19.43: Tim's in the dressing room at the moment, having a bit of a sit down. (77 minutes until stage time)
19.40: Seems a lot of you are reading the live blog while studying - like Jo Ann in Philadelphia who's studying music theory and Mireille from Lebanon who's working on her architecture project.
19.38: Matilda - the youngest member of Keane Chile - seems to be enjoying the blog...
19.36: Su from Sao Paulo's biscuits are ready! (One of more than 70 emails to arrive to ontour@keanemusic.com while we had dinner.)
19.27: Jesse, messing about with the big photos of past gigs they have on the wall in the catering room...
19.21: Here's tonight's menu from catering. (We had the curry. It was nice.)
19.18: Beth is back at her desk. Here's a question that Elena emailed to ontour@keanemusic.com.
Hi Beth! I know your job is extremely hard, but what was/is the most difficult thing in your job?? Hope you're well!!
All the best,
Elena

Beth says: It's when we're just releasing a record, because there is just so much going on. All over the world, with so many different departments.
19.15: And we're back...
18.35: Right, doors are open and the band will head through the door below in 2 hours and 24 minutes. Off to grab something to eat. Back soon...
18.20: Doors open in ten minutes. Here's the merch stand which will greet folks when they do.
18.19: Here's a very red corridor which we got lost in earlier on...
18.15: Hi km.com! So who's doing all the blogging? 1 person, or 2? And who are you?? Just curious about your team in HMH! Greetings from Amsterdam (getting ready for the show tonight!!)
Sarah
There's just one of us (so please excuse any gaps in service). And *we* are km.com.
18.14: And Tracy is reading the blog from Hong Kong with her panda, who seems to be a bit upset by it (must be more of a dubstep fan).
18.10: Rather closer to home, Lizanne and Stony are reading the blog outside this very venue while waiting for the doors to open. (They open in 18 minutes.)
18.08: Meanwhile, Rebecca in Sao Paulo is reading the blog while studying criminal law. Concentrate, Rebecca. Photos of shoes will NOT help you get the bad guys.
18.05: "As I am reading your Blog my boys, Daniel and Matthew, are dancing in the kitchen!" writes Susan. And here's the proof...
Nice moves fellas.
18.02: Btw, thanks for all the comments below this blog (as well as your emails). We're reading all those too. Glad you're enjoying it...
18.00: Here's Richard in the dressing room earlier, working on his hi-res crowd shots for the shows in Offenbach and Beirut (which we'll post once we're back on an internet connection that won't take an hour or so to upload them...!)
17.55: Gabi is currently reading the blog in a hotel room in Indianapolis while waiting to go and see a keynote speech from Michael J Fox! Now *that* is impressive.
17.52: Here are Lali's from Argentina's cats - which are called Hopes and Fears. Wonder if the contrasting nature of their names is reflected in their behaviour. One very optimistic. One a bit scary.
17.48: 'Can you please take a picture of everyones' shoes?' asks Emelie from Sweden. Well, we did take this in the dressing room earlier. No idea whose they are, though...
17.46: Thanks to all of you from Beirut and Offenbach who've emailed to say how much you enjoyed the shows in the last few days. Very glad to hear it. And HAPPY 21ST BIRTHDAY to Saskia, whose sister tells us she'll be celebrating her birthday at tonight's show here in Amsterdam.
17.45: A couple of you - including Aline - have emailed ontour@keanemusic.com to ask what camera we're using. It's a Nikon D7000.
17.42: Donna from Mexico has emailed in this great photo of the fans greeting Keane in Mexico in August...
Have we mentioned that Keane have amazing fans? Keane have amazing fans.
17.41: Sandra - who's a Pharmacy Computer Systems Manager at a hospital in the UK - has emailed to ask if we'd like to swap jobs. Not sure her hospital's patients would thank her for having us in charge of their medicines...
17.39: For those of you asking which songs the band were soundchecking earlier, while we were down there it was Neon River and then Spiralling (where they were talking about doing some kind of complicated key change thing which we didn't understand).
17.34: Su from Sao Paulo is reading the live blog while baking heart-shaped biscuits (or, for our American readers, cookies). Feel free to email us a pic of what you're doing while you read, to ontour@keanemusic.com - and that includes you, Su, when they've finished baking.
17.25: BREAKING NEWS FROM THE KEANE SHOP: You can now order the bespoke, hand pulled, silk screen prints for each night of the European tour. Click here to order (then select the show from the dropdown menu). The A2 screen prints are printed on 250 gsm archival paper and are hand numbered out of 10. There is one print design made to commemorate each show on the current Strangeland world tour. Here's the poster for tonight...
17.15: And finally, a couple of shots which show tonight's venue (which, you'll remember if you've been reading since the start, is 5,500 capacity and long ago sold out).
17.13: Hey mister bass man.
17.10: And here's Rich, Instagramming up a storm...
17.07: And another one of Tom...
17.03: Tim, taken from up on the stage...
17.01: Jesse's chatting to soundman Matthew about something in this one...
16.58: And here's Jesse (as you might also gather, the full stage lighting often isn't on for soundcheck)
16.55: Tim looking deep in thought (the soundcheck is obviously where the band check their levels and run through any potential changes to the songs, etc)
16.53: Tom, singing Neon River during soundcheck...
16.51: The view from the back...
16.50: Here's the queue outside the venue, which we passed on the way to the stage. (To be honest, we got quite lost.)
16.46: Sorry for the gap in blog service - turned out that when we got into the venue, the soundcheck had begun. Photos incoming....
16.18: Off to take a couple of photos of the venue itself. We'll leave you with a photo of Tom making us a cup of tea earlier (and very nice it was too).
16.17: M from Spain has emailed ontour@keanemusic.com to ask how long it takes Richard to unfold his bike. We saw him do it and it was about, ooh, 30 seconds.
16.15: "Happy Keane-Day" to Laura Araujo who, we're told, is eating this cake in Peru, right now. (Wonder if it'll be like that bit in Back To The Future and the band will actually start to disappear as they're eaten. We'll let you know...)
16.13: Oh, and now Colin's back.
Colin, you have an orange watch, where did you get it?
-Laurel
Mongolia

Colin says: It's red, actually. And it's a very cheap Casio! I bought it online.
16.10: Colin's wandered off somewhere, but Beth the band's lovely PA is still here. Any more questions for her? Email 'em to ontour@keanemusic.com....
16.09: Beth, Who's your favourite Keane member?
Lots of love!
Lali from Buenos Aires
Beth says: Haha! It depends what day of the week it is...
16.06: Here's Zoe from Uppingham, who wins the Send A Photo Of Yourself On A Bike Like Richard Challenge...
Nice T-shirt too, Zoe.
16.05: Another question for Colin...
Colin, Where's your favorite venue??
Olivia

Colin says: Well, I have to say, I'm particularly passionate about the Greek theatre in LA, because I'm from LA.
Beth [Keane's PA] says: You're not from LA Colin. You were born in Scotland.
Colin says: Where you're from is not just about your accent, Beth. And there's church in Istanbul that's an amazing venue too.
Beth: I like the Fox Theatre in Oakland.
15.59: This just in from Wajeeha in Pakistan. Good effort!
15.54: Right, here are some of Colin's answers to your questions...
Q. Do you get to watch Keane playing during concerts? Can you just sit and enjoy it or do you have work to do during show time?
From Aline Shinzato
Sao Paulo - Brazil

Colin says: I fluctuate betwixt side of stage and back stage. I do get to enjoy it from time to time.

Q. Did you get the little clogs with your name on them which I left you in Taiwan?
Thanks a lot.
Chi from Taoyuan City, Taiwan.

Colin says: I did and I love them. Thanks!

Q. Hi colin! Who's the keane member you argue with the most?
Lali

Colin says: We don't argue. They just do as they're told.
15.50: And hello to Spain, Canada and Peru. (Keane fans really are *everywhere*.)
15.48: To inspire your Colin Questions, here's a photo of him, hard at work. (The teddy is not his.)
15.45: If you have a question for Keane's Tour Manager To The Stars, Colin, then please email it to ontour@keanemusic.com and we'll do our best to ask him...
15.44: For those of you asking where Jesse is, he's gone to buy some shoes....
15.38: OK, that seems like a good photo theme for you guys, Can you recreate Richard's bike pose below, on your bike? Email it to ontour@keanemusic.com (hello to those of you in Switzerland, Italy, Brazil, Argentina, Pakistan, Germany, Mexico, Norway, the US, Finland and lots of other places who've already emailed to say hello). Oh, and these guys from Indonesia...
15.34: Earlier today, Richard went for a ride around Amsterdam on his incerdibly nifty folding bike (which he keeps in a case on the tourbus). He biked to this cafe and had "a very tasty flat white". Here he is, wrapped up warm agains the chilly weather.
And here's how small the bike folds..
Nifty!
15.04: Here's Tim and Tom in the dressing room just now. They were actually looking at old videos of performances of Clear Skies on YouTube. The band are all in good spirits, and enjoyed last night's show in Offenbach, Germany (where they travelled overnight from - about a six hour drive, says Colin TMTTS, who's sitting opposite us).
14.59: Hello to Chi from Taoyuan City, TAIWAN, who was the first person to email ontour@keanemusic.com after the blog started and say hello. Hello Chi! And also hello to Tali from Buenos Aires, Joliem from Apeldoom, Meire James from Sao Paulo, Laurel from Mongolia, Ces Boco from the Phillipines and Natalia from St Petersburg. You guys are the km.com hardcore who got to the blog before we did a tweet or anything...
14.56: Here's an interview with the band in a Dutch magazine in the venue's reception...
14.48: And here's a slightly arty way of showing you that the weather today is a little bit mixed.
Saying that, as we uploaded that photo, the sun came out. Hurrah!
14.45: The venue is right across from the Amsterdam ArenaA, home to one of European football's greatest teams, Ajax.
14.33: Let's begin with a photo of tonight's venue, the Heineken Music Hall, capacity 5,500, which has completely sold out for tonight. (You'll notice that there are already some fans outside.)
And here's an extremely tasty waffle which we bought from a stall just outside the venue. They might be more famous for their waffles over the border in Belgium, but this was *good*.
14:30: Hello from Amsterdam! We've arrived at the Heineken Music Hall, we've scooted around to take some photos and we're ready to blog. As always, we'd love to hear from you at ontour@keanemusic.com - let us know where you're reading from.
Comments (176)
Adorn your relationship with the people close to your heart with the beauty of delightful Gifts and make it loveliest. Send Gifts to France through online store at reasonable price and make the occasion grander.
Thank you so much for the gig in Paris, it was so great!!!!I'm a fench fan and I will always remember this 17th october, it was my 34th birthday, and I was so happy to see Keane on stage, I cried when I heard Bedshaped!!and all the setlist was perfect!!!!!You are so brillliant!!!!French fans have chance to have Keane!!!! Your songs; your music gives us happiness, and more. I feel good when Iisten Keane!!!! (sorry for my faults in english).
The playlist of the songs played at the concert in Amsterdam on spotify: http://open.spotify.com/user/1126355493/playlist/4rJlA76CZxGUCPMMy6a6p 1
♥♥ Que lindas fotos todas estan hermosas.. tommy cantas como los angeles tienes una voz increiblemente bella... los amo keane son la mejor banda del mundo... mexico los quiere chicos.. vuelvan pronto ♥♥♥
Guess the shoes- the green trainers are Jesses', the beaten up brown ones are Tom's, the black and white ones are Tim's which leave the other trainers for Richard. Was I right?
It was such a wonderfull experience in Amsterdam! I'm still a bit shaking from it! It was the best evening of my life! :D Thank you Keane! You are great!
Wow, terrific pictures. Tom, you're amazing as always. Tim, Richard, Jesse..have a good time and good luck!
es increíble las millones de personas que los quieren!! En cada rincón del Mundo. Es fascinante!! Les saludo, recién acabo de ver las fotos del Blog, están de maravilla! Aún les queda harto por conocer y viajar comunicando con sus hermosas canciones! Para mí ustedes siempre formarán parte de mi repertorio de música, aún si es que en las radios se escuchen canciones de artistas más famosos. Los quiero chicos! Cuídense mucho, estaré esperándolos para el Lollapalooza 2013 en Santiago of Chile. Best Whishes!! From Valdivia of Chile!
Thanks for the blogs and photo's! looks great. And of course you guys were amazing In Amsterdam! what an energy! loved it from the beginning to the end. Lovely you guys came back twice as no much people were expecting that. See you guys in Edinburgh.
COME FROM COLOMBIA PLEASE!
GUYS I LOVE YOU GUYS!!...KEANE
The reason Tom would enjoy Lovejoy was that it was set in Suffolk, in and around Ipswich and surrounding area . It was actually a bit rubbish really but that was part of its charm! What is it with everybody and socks?!
@AnnetteM: Hi! A drizzly good evening from chocolateland, Belgium! Well, i'm trying to subtly inject some contemporary decors in our home and at the same time trying not to defeat the design of "antique-y". LOL You're lucky cuz your partner has grown to like KEANE's music albeit here at my abode, Perfect Symmetry, Bend & Break & The Starting LIne have become our National anthem each morning! And my daughter has been hummin' Bedshaped for more than a fortnight now. Yeah, watching KEANE live is indeed in my Bucket List and that's the reason why i have registered myself on this website so as to be in the loop for their next gig here in Belgium as I was a tad too late to purchase tickets for their November gig here in Brussels this year! Yup, a bummer indeed but it's alright cuz I was so busy planning our Cote D'Azur & French Alps holiday last summer. Seems we cannot have everything, can we? So, I reckon you are from London, Annette?
amazing photos!! Thank you guys!! :D
@Athallie - Have lots of fun tonight, girl! And throw Tom a kiss from me, hehe!
Dommage que vous ne restiez pas Mr KM ! I'm terribly late but I go. A tout de suite l'Olympia :)
And now on to conquer Paris...yet again!.....You knock 'em dead every time, guys.....Looking forward to your Michigan stop in January....parkas and snowmobiles might be the order of the day!....Safe travels, great music, good times!....Sherry W., Michigan, USA. @sambawoman.
TAKE ME TO PARIS KEANE! GOOD MORNING FROM ECUADOR I HOPE YOU ENJOY THIS TRIP IN PARIS. ENVY YOU!!! JAJAJA
anouk23 where are you from? I am sorry for you although my boyfriend loves antiques on television( that actor that Tom is looking at is on comedy/drama show about an antiques dealer) he is an architect and is totally minimalistic at home! Drag your husband into the 21st century now! your are right about having a roof over are heads though! Did you get to see Keane this year? I saw them in Brixton London they were brilliant - next time they tour I am going to save up and see the whole tour! Am fortunate that my partner absolutely loves strangeland as I have played it to death! Amazing to see all these pictures from over the world!
Grazie Km per questi aggiornamenti in tempo reale da Parigi, li ho graditi tantissimo, questi scorci della città sono suggestivi e romantici! Mi piace molto anche notare da queste nuove foto che la band sta bene , si respira un'atmosfera serena e rilassata , si vede dai loro volti che il concerto di ieri sera è andato alla grande e sono sicura che anche questo di oggi sarà un successone! Un abbraccio ai Keane , alla cara Beth e a tutto lo staff di Km, al prossimo live blog! Sabrina da Catania!
@AnnetteM: Crazy, indeed, cuz my hubby prefers antiques! eew! i so abhor it but he bought our house when he was still single and before we met hence, I have no choice but to adapt to his "design" and old oak furniture. I'm not complaining...at least we've got a roof over our head, haven't we? But just between you and me, i really prefer the modern minimalistic/Asian interior design/motif.
Oh God my boyfriend loves Lovejoy does Tom still like cash in the attic becos my boyfriend wld probablly like that show too - what is with men and antiques??
Thank you so much =) It would have been amazing to have photos from the Paris concert, but we are still happy =) HUGE HUGS FROM CHILE =)
But I don't want it to end. :(
Aw, what a pity the live blog is over. :( I was already getting used to this, haha. Well, thank you very much, mr. KM, and have a nice trip back to London! I'll be waiting for Tom, Tim, Rich & Jesse in Lisbon and Porto... can't wait! x
ISA, from Brasil, Sao Paulo **** Since I do love arts, I do love Paris, one of most gorgeous city in the world, indeed! (But I also like Londond and Edinburgh, in UK!). Guys, you are lucky people to be there! Have a great performance tonight! Did I understand well? Are you going to play in the famous theater called Olympia? Wow! Lots of love! XXXXXXX
funny, I dreamt last night of Marilyn Monroe. Well, actually it wasn´t a funny dream as she was in prison as she had problems with her daughter. Did she ever had a daughter? Well, that´s nice more pics today. Thanks!
Hi, Keane, Colin, KM, Beth and the crew! A drizzly good afternoon to you all! Tom, shouldn't you be sleeping some more? Rest those vocal chords, luv!
Bellissimi questi scatti Parigini, grazie di cuore Keanemusic!!!
Good morning, Keane, Beth, Colin, all the staff and, as well, Mr. KM! :) Following you again from Portugal. Olympia seems to be a really cool venue. Hope you all enjoy yourselves tonight! x
Ciao Keanemusic, sono contenta che anche oggi ci farete compagnia con il liveblog da Parigi, che bello ! Auguro un buongiorno a tutti voi dello staff e naturalmente a Tom, Tim, Jesse e Richard! Attendo le foto di Parigi!!! By Sabrina from Catania, Sicily!!!
haha...it´s funny...i study french art at now....Tom, please bring me a some Toulouse-Lautrec masterpiece :-D ...i can´t wait to prague´s concert.... T.T
WOOHOO! We get a few more pictures!
yo hooooooooooooooooo :DD
Re Tom & Tim looking at youtube Clear Skies live - I always wished it would end with a bongo playing frenzy by Jesse! Looking forward to seeing the band on 30 Nov...
Such an amazing night and one of the best setlists ever. I was so happy with all the old songs (don't get me wrong I love the new album too, but you guys have so many songs to chose from, I was happy to hear some songs you haven't been playing for a long time) I think the accoustic Try Again with just Tim and Tom was absolutely beautiful. And I loved to hear Strangers and A bad dream! And the encore Under Pressure. My favourite. Good luck in Paris. xxx
Thanks so much for the fantastic blog! I really enjoyed it, you did an awesome job Mr. KM! I love getting an up close and personal glimpse of behind the scenes...it makes me feel a lttle bit closer to you all! It's so kind and gererous of the guys to let us in! And by the way, WE are the lucky ones....so lucky to have Keane :) Lots of love from Wisconsin, USA!
RENDEZ VOUS TOUT A L 'HEURE A L 'OLYMPIA
UN SHOW FANTASTIQUE DES PHOTOS GENIALES!!!!! comme dhabitude beaucoup D' AMOUR ET D' EMOTIONS cela ne m'etonne pas car avec vous cest 100% pour 100% BONHEUR
Very good pictures! I want to see keane in Paris! WOW
Wooow no tengo palabras....esta super geniial :D moriré.... Keane¡¡¡ es lo mejor¡!
CHE Chicos de corazón FELICITACIONES. Los esperamos en BUENOS AIRES. Saludos.
I received my ticket for the Houston show today....couldn't ask for a better way to end this evening...
Espero que descancen, se lo merecen despues de un arduo trabajo, encontre una parte de algun video llamado STRANGERS, y veo que la musica vive dentro de cada uno, que el tiempo ni el espacion ha intervendo en el su llamado, al llamado de la musica, Feliz día de Mañana!!!!Gracias ...
I just got home from Amsterdam, and I want to thank you guys so much for the perfect show tonight! It was definitely an experience I will never forget in my entire life!
Brilliant as usual!!! Can't wait for San Francisco in January!! ♥
Wrong, WE are lucky to have Keane! :) Thank you so much for the great live blog & the amazing photos. It makes us feel so much closer to the guys and it's incredible. By the way, the inside of the tour bus looks pretty cool! I'll be looking forward to tomorrow's photos. Goodnight everyone! Love you all! x
wow beautiful photos!! really glad you my life! I look forward to come April 2013 to watch on chile greetings and I love them very good job! :)
Maravilloso!!! buenas fotos, gracias por compartir con nosotrso,No existe mejor banda que la unica llamada Keane que hace poco conocí del cual me estoy enamorando por su senciellez y calidad , excelente , Gracias!!!!!
Thanks for this great live blog! It was a great way to spend one of my vacation days :) awesome set list! I would love it if they could play Try Again in January in LA! ( and Spiraling for my husband, his favorite). Cheers from California
Mr KM, You're the best ! THANKS for the Setlist !!!!!!!!!
Thanks for this live blog!....and Richard you're great! ;-)
Hi-ya, thanks Mr.KM.com. You did a brilliant work! (Couldn´t catch it all up,really, live all as a small amount of people like me has to go to work, but enjoyed it afterwards. How was the EasyJet flight?)
Great the story of the socks ! This Richard is a "grand Monsieur" ;) I am happy to tell you "see you tomorrow Keane & Co" ! Hope there will be no rain, but it's mal barré :(
La foto de Tim's in the dressing room until stage time está como una locomotora. El jersey negro y ya sé que lo he dicho antes, pero esta barba me pone .... No puedo decir más porqué está casado y yo también. Así que mejor dejarlo. Marisa. Barcelona.
Mr. Hughes'...thats one of the many reasons Keane fans love you!!!!!
Thank you Mr KM for this very interesting live blog ! :)
A heartfelt "Thank you to Keane HQ ., the crew...and of course to Keane...cant wait to see footage on Youtube... view from the balconly looked great...
awww! sweet, sweet Richard!!!! :)
Thank you KM. This was very nice.
Gracias por compartir su magia desde muy lejos Saludos desde México
Gracias por estas maravillosas fotos hechas con cariño y atención hacia los fans. Estáis todos estupendos. Y os espero en Razzmatazz Barcelona. Ya sabéis que ojalá hubierais ido al Palacio de la música. Keane es diseño y elegancia. Difíciles de encontrar en este mundo de música. Es un placer para los oídos. Barcelona. Marisa. Petons.
YOU HAVE TWIST MY DAY, I RAN OUT TO THE DOCTOR AND CAME BACK BY TAXI SO I DONT MISS MUCH, I HAD BREAKFAST AND LUNCH IN FROM OF MY LAPTOP, SENT A FEW PICS AND MR. KM.COM REPLIED BACK, THAT WAS AWESOME, I WISH I WAS THERE BUT FOR ME WILL BE 6 MONTHS UNTIL I SEE MY FAVORITE BAND AGAIN, I LOVE YOU TIM, HOW YOU INSPIRE MY LIFE I CANT DESCRIBE.
Thank you KM for the live blog you make us very happy!
merci! merci! merci beaucoup, KM!!! een heel heel veel BEDANKT!!! This is indeed a lovely Live Blog of KEANE to all of their fans around the world!!! i am just at loss for words...i am overjoyed! that might be an understatement but for someone who's been doing a gazillion of singing & dancing out here just to get hold of tickets...this live blog gets me a tad closer to these four amazing lads. Again, a million thanks, KM, for this wonderful idea, this Live Blog! =)
This is so exciting! Thank you so much for the blog today!
Amazing!!! nice pictures of the show :) ...Peru is waiting for you
Which broadcasting corporation is filming?????????????
JESSE, are those your new pair of shoes, luv?
oh! I love Tom's socks and TIM's on his sexy pink shirt again!!!!! i am melting........
Only a few minutes!! Good luck. Have fun.
Mr. KM, thank you so much for this fantastic live blog, wonderful photos and so much humour and kindness - all the "Keane's spirit" ♥ ! Wishing my band from the ♥ an amazing Gig, cannot wait for saturday in Lisbon...love you Guys!!
How exciting! Love the live blog - I almost feel as though I'm there, even though I'm way over here, near Asheville, North Carolina! :) Hope you have a great show!
Boy, am I late! Great crowd there in Amsterdam!
Thank you so much for posting the pic of my boys dancing in the kitchen...they too are huge Keane fans! The offer for a home-cooked meal while you all are back in the States is a real one --stop anytime!
ISA, from Brasil, Sao Paulo **** Loved much Rich´s T-shirt! :))) Lots of love and have a great performance today! XXXXXXXXX
Thank you so much for keeping me entertained while I take care of my 8-month old, who seems to be going through a growth spurt and is very hungry today! I hope you will continue the screen prints for the next leg of the US tour. Thanks again! -Lindsay in Michigan
Have a great show! Can't wait to see you guys in Porto, PORTUGAL :)
The crowd looks excited for the show. Trying to follow the blog, but I'm at work. Shhh. Don't tell anyone. :D
@angieherreram. I have the same problem.
thanks for blogging!! I can't wait to see the guys live in PERU!
I got a mention! But I'm not in Philly, I'm in Hutto, near Austin! Not studying anymore-working on grades for the kiddos. :-) This made my day today. Thanks, KM!
Just popped in to say "Hello"...
Thank you for mentioning me ;)
Hahahah Jesse's Face is priceless ;p
Reading the live blogs is always a pleasure! Hello from Paris! See you tomorrow at the Olympia ! Frederique
That berry cheesecake sounds delish! ;P
Welcome back KM! Just a few more checking on this blog before I go to sleep since it is past 1AM here in Manila! :p I will just check back on this blog and read the other details later. Keep on posting. Thanks a lot! :D
I really like live blogs ! Hello from Paris. I' m off to eat something too. See you tomorrow at the Olympia. Frederique.
Thank you @ADrien !!! I'm not the only one who wants ATLANTIC in Paris tomorrow !
01:05 now...good night to all!! Read next morning!!
Okay, I think a sign that I need to go to bed is that I nearly fell asleep while using my iPod touch
i have to log in at this page every time...How i avoid it, and keep it connected?
My panda become happy now,haha ~ thanks for post it ~~
read and see you later Mr km, I´m goint to school, and thanks againg for blogging my photo of Mexico read you later keaners !!! Donna
You got lost in the corridor - "Jog? We don't have time for that."
I have most of that merchandise! Great blog km.com!!! x
Hi Keane! greetings from México, we miss you!
Woohoo, another live blog. Great way to start my home evening. Glad to see you, guys smiling and enjoying yourself. Put on a great show tonight! And greetings from Moscow to all the lovely KEANE fans from all around the world ♥!
@Dionysis: that's the first phrase that came into my mind, too! "Welcome to The Shining!"
oh! that's bloody red, indeed! ;D
Re: Red Corridor picture To quote Tom in one of the LA Docs: "Welcome to The Shining."
Hahhahahah thanks for publishing my picture white studying criminal law... I hope he shoes inspire me to get good grades... LOL! Have a great time tonight!
Thanks for putting this live blog up and sharing all these info, KM. Your efforts are greatly appreciated! THANK YOU VERY MUCH! :D Hope you have a nice day there in Amsterdam. Enjoooy! :)
live blog is amazing, please do it more~ XD
time to sleep... good night, everyone... enjoy the live blog...:) oh... I hate time differences!!! it's 0:01..in Taiwan now....Love from Taiwan-Chi
"Mr. Bass Man, you got that certain somethin' "
Dear Mr KM: You really know how to make happy to the fans thanks for doing this live blog
It's already midnight here in the Philippines, but how can I sleep with this liveblog up and going? :)))) I miss Keane! I hope they will go back to Manila for their 2nd concert, perhaps next year? :D
So happy to be with you today! Love the live blogs!
Hello,Hello !!! Guys you've got no idea how happy iam everytime you make live blogs, it makes me feel closer to all of you, Thank u so much for this, today is another of my favourite days of the Year!!!, because of You ★★★★ Greetings,hugs & love ♥ to all \(◕‿-)/ ║.•°*"˜˜"*°•.ƸӜƷ ✶*"
im listening STRANGELAND now!. i would like to stay there. GREETINGS FROM ECUADOR!!!!
huhu why did they sing Neon River heeere. :(( They didnt sang that song when they came here in Manila. :( I was really looking forward to hear that song live since its one of my favorite tracks in Strangeland. :(
Seriously, 5,500 and long ago SOLD OUT!!!! KEAN is indeed an underrated band. Nonetheless, i love them to bits! =)
Tommy, have you been on the gym lately???? nice biceps, luv! =)
Yeap. Tom's arms. Looking fit!
Hello Everyone! Greetings from Lebanon ;)
Tom's Arms and Tim's glasses!
Oh you changed the background again! I like the other one best, that's reminds me to war jajajaj LOVE YOU!! xx
Hello everybody greetings from Mexico City =)
Coen&Sandershow Last ticket Service, ze hebben nog een paar tickets! SMS naar 3333 de allerbeste reden waarom jij naar Keane moet... Succes!
Loved Wajeeha's drawing, so cute! :) Can you send a cup of tea over here too, Tom? That would be great since the weather is getting colder here in Lisbon, haha! :D
What I'd do to have Tom fix a cup of tea for me. :D
Sweet! I was just fixing myself a cuppa, too! =)
Tom, Tim, Richard, Jesse : will you play "Atlantic" in Paris tomorrow, pleeeeaaaasze ? The song is so meaningful for my girlfriend and I !!! I beg you !!!! See you, guys, all the best !
I just wanted to say...we love you Beth :D
Well, the watch looked orange in the picture...
@Zoe, I Love your T-shirt! :)
Hey Guys! I am in Hatfield, Pennsylvania USA. I saw your show at the Merriam Theater back in June- I have been a HUGE Keane fan for years!!! It was a dream come true to see you live. My question is---- I love your original music- you are the soundtrack of my life- Tim is a genius and with the other members of the band you all continue to write music and lyrics uniquely your own- MAGIC. What are some of your favorite covers to do? I love watching them on youtube- She Sells Sanctuary, Dirtylicious, and With or Without you are some of my favorites. What are yours??? Thanks for your time. PS- I am so glad you are coming back to the US on tour- BUT you are skipping over Philadelphia this time---- if you needto stop at my house for dinner just let me know- my boys (age 8 and 5) would freak! I would too...
awwww! Wajeeha, that's a very cool photo!
Hey, guys!! In Keane Chile we are very happy with this new live blog!! And we're extremely happy because you're coming next year to LOLLAPALOOZA CHILE 2013!! We're already waiting for you =D HUGE HUGS FROM CHILE =)
Greeting from Thailand! Hope to see you again so soon. Miss you lots! :)
Hello from salina cruz, oaxaca. Mexico!!!!!!!!!!
Just a little hello quickly to Keane's world...and especially to my dear Vic!, Gudrun, Sissi and Regina...mille bises :)
Grazie Km per aver menzionato l'Italia, sono stata io a salutarvi , che bello, sono contenta!!! Sabrina from Sicily!!!
Hello from Portugal! :) The waffle looks irresistible. And that bike is awesome also! Clear Skies would be a lovely addition to the setlist... they should definitely consider including it in Lisbon/Porto gigs this weekend! :D
If they are watching old performances of Clear Skies, might they be considering adding it back to the setlist sometime soon? :D
I'm at work, ...I have no bike xD
Hi everybody!!! I'm from Madrid, Spain here seeing and following another lovely live blog of Keane. Good luck Keane tonight in Amsterdam.
Looking forward to tonight! I really hope you'll play Something In Me Was Dying and Sea Fog, but I'll love you anyways!
Molto carina la piccola bici di Richard, è comodissima, la può piegare e portarsela dove vuole! Sono contenta che abbia avuto il tempo di fare un giro nella città! E' sempre bello per loro poter visitare i luoghi dove si esibiscono!!!
Join ~ I'm from hong kong~支持!!!
I really like Tim's glasses, I want a pair like that.
Hi everybody!!! The best wishes for the concert. A lot of peruvian fans are waiting for you. Have a nice day : )
Hi guys! Do a good show (Spinal Tap). I need some coffee.
Vi sto seguendo anch'io ! Che bello il liveblog, sono contenta di vedere Tim e Tom così sorridenti , si stanno proprio divertendo a guardare internet, che simpatici! Un salutone da Sabrina from Catania!
hey, hey, hey, I'm your fan too from Thailand. Waiting for you guys to come around again. Love you guys.
Hello!!!! The Italian Contingent is ready for the live blog. Hugs. Simona
Please, KM, tell me which Dutch magazine featured KEANE???? Thanks in advance!
Have a great time in Amsterdam. It's too far from us to come and see you all.
i've sent a couple of emails, as well. No mention... huhuhu..; :( Anywayz, have fun tonight, boys!!!! I'm still hoping for tickets for your gig here in Belgium next month. Crossin' my fingers otherwise I might have to travel abroad just to see you four LIVE.
Have a nice gig there!! Good luck, but I know that you dont need it.... Music!!!!
Hi guys!! thanks for this live blog. Hugs from Peru ;-)
HIIIII GUYSS!!! You don't know how much we love you in PERU!!! we've been waiting for u guys since 2004!!!. Please!!! we need a KEANE gig in our country :) see you on the road :D
Yay! :D You mentioned me! -Laurel
awwww!!! I'm the first one!!!!!!! yes!!! I'm here!!! Chi from Taiwan!!! Hello everyone!!!!!
ISA *** The waffles looks tasty, indeed! :)
ISA, from Brasil, Sao Paulo *** Here in Brasil is about ten am and soon I will have a session with the dentist and them I will have lunch, so, who knows later I can be here again! Lots of love! XXXXX
Welcome in the Netherlands! I bought two tickets for the show in the HMH, but they ripped me off, so now i am behind my computer in Apeldoorn. Good luck and have fun everyone!!
That waffle looks amazing! I'm also hungry, so that doesn't help anything...
I've sent you an email :) Hopefully this will be my second time mentioned on a live blog! :D Have a blast guys! :)
Enjoy your time in Amsterdam, guys and have a wonderful show! Greets and a bag full of sunshine from Germany's lovely east part from a huge German Keane fan! :) Have fun says Dorothee