V Festival photoblog
17.45: The band are very hot, very sweaty and very pleased with how the show went. They're all in and around the dressing room chatting to family and friends who've come along today.
And that's it from us. Thanks for all your comments. We'll leave you with today's setlist and no doubt see you for another live blog soon.
17.40: And back to the dressing rooms...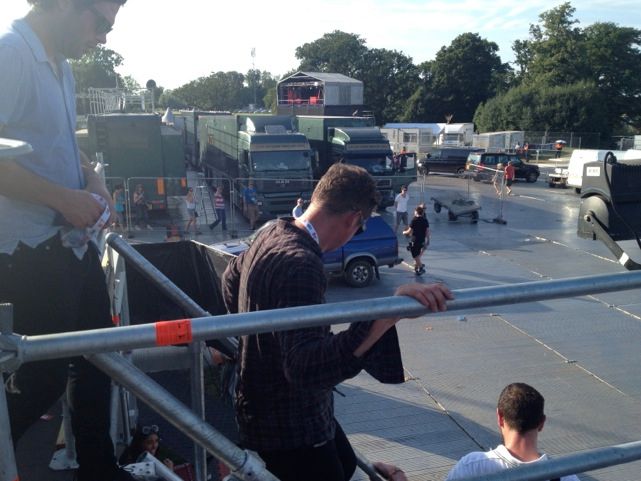 17.38: Got there just in time to see the band coming off stage after a triumphant (but blooming sweltering) show...
17.25: RIght, we're off back out there to take a few more photos...
17.24: And the view from the front...
17.20: The view from up on the viewing balcony thing to the side of the stage...
17.17: There are a lot of people out there...
17.14: These ones show the band going on stage...
17.07: Walking from the dressing room to the stage. (Did we mention it's REALLY HOT?)
17.02: Warming up in the dressing room, a few minutes before the show.
16.57: Keane are on stage - and those of you in the UK and Ireland can watch it live online at www.vfestival.com right now.
16.29: The view from behind the stage with 21 mins until stage time...
15.56: Here's Mr Chaplin...
15.45: One hour and five minutes until stage time, and Keane's instruments are in position back stage...
15.36: Here's the band doing an acoustic session for Channel 4 earlier (we were stuck on a baking hot M25 at the time - so thanks to Beth for the photo).
15.15: Richard and Jesse, hanging out in the dressing room
14.46: Here's Tim in the dressing room just now, lost in his laptop...
14:34: Hello folks. So we've arrived at V's Chelmsford site where it is very, VERY hot and Keane are due to play the main stage in about two hours time. As there's a half decent internet connection (thanks to tour manager Colin), we thought we'd post a few pictures. Starting with a bunch which we took wandering through the site from the carpark to the dressing rooms (a lonnnnnng walk).
This one's for you Mexico....
And this one's for anyone who likes to pay money to feel a bit sick...
Spot the Keane T-shirt at the merch stand...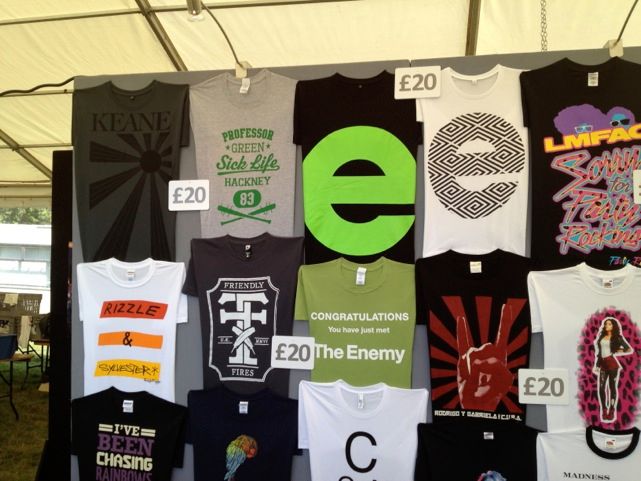 Here's the main stage, where Keane will be playing...
Here's some women dressed as bumble bees.
And some men dressed as smurfs...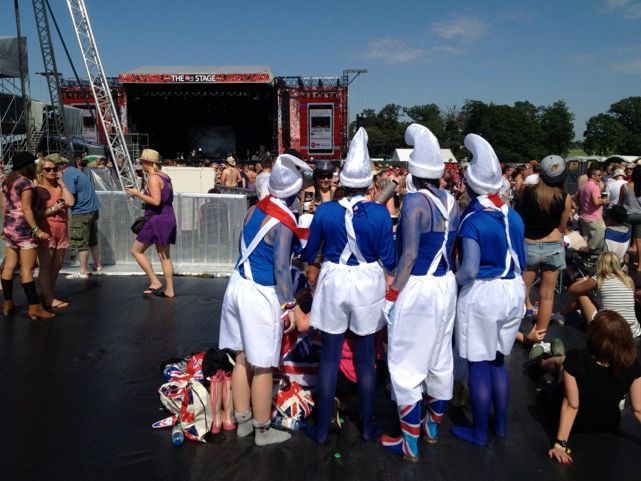 And that stage again, only from a bit nearer...
Comments (53)
OMG Mexico's always with you guys! We totally love them and we feel flattered to be present in your minds :') Love you all I hope I can meet you someday!!!
good photos Rich! As always. i've to mention that i want with all my fource to ve there, but i live in Mexico. My support was there, no doubt . Love u guys! Incredible setlist.♥ Lorena Cantu, hugs from Monterrey, Mexico
No sé si Tom está haciendo un solo. La marca Keane pasa por encima de las individualidades. Para cantar solo supongo has de tener mucha potencia en todos los sentidos y ser extravagante, no sé, pienso que Tom está mucho mejor con toda la banda.
Is Tom really doing a solo album then?
I was there- second row!!!!!! Keane, you were brilliant as always- just wish you'd had longer - as Tom said maybe next year! A beautiful sunny day with Keane - absolutely fantastic.:D
Fabulous photos as always Richard, loved the Mexican Seat, a question has proven Mexican food??, if so I would like to know who was and who he likes more?? And it is almost to the concert in Mexico, we are so anxious. counting the days to give you a gift, I hope to :D
♥♥♥Lindas fotos Richard y muchas gracias por poner una de mexico... eres increible.. ya estamos contando los dias para que lleguen a mexico.. LOS AMAMOS KEANE.... SON LA MEJOR BANDA DEL MUNDO... ARRIBA KEANE... ARRIBA MEXICO ♥♥♥ :)
♥♥♥ hermosas fotos en especial la dedicada a mexico ♥♥♥ ya queremos tenerlos de nuevo en México ................... gracias richard eres el mas lindo y amable de todos te quiero un saludo y beso para ti ♥
IT'S WONDERFUL!!!!!!!!!! I LIKE THESE PHOTOS. TOM I LOVE YOU MORE THAN ANYTHING IN THE WORLD
Beautifuls photos!!!!! Los quierooooo!!! COLOMBIA espera por ustedes!!!!!!!
Thank you SO much for all the awesome pics! By far, my favorite post yet! Please keep the pictures coming:) -Kari @ellanora_com
HI KEANEEEEEEEEEE♥♥♥THANKS SO MUCH!!! IS GREAT!!! :D WE MISS YOU SO MUCH FROM ARGENTINA!!GOOD LUCK KEANE!!♥♥:)
Thank you for making us happy with your music :) We love you guys soooooooo much ♥♥♥ Kisses from Brazil
Counting the days for your show here in Brazil KEANE hahahahjhbafjlbshlfnhrjhn 6
Mr. Richard make you a photoblog of Mexico when he comes! would be great! He would appreciate all the Mexicans and myself (: Greetings and kisses .. I love them! ♥
What a wonderful photo blog! Well done Keane- Team! Lots of love from a huge German Keane- Fan!
Lo siento pero el Yamaha de Tim es el CP-70 Ojalá vengan a Razzmatazz con este Yamaha i el órgano de Tom. Todo un recital de teclados. I would like to go to studio Sea fog with my family. Besos Tim. Barcelona. Marisa
Amei as fotos! I loved the pics! Thanks! :-)
You were amazing yesterday at V festival, i enjoyed every second of it, it was fantastic. I cant wait to see you in November and December at London 02, Brighton and Bournemouth, cant wait!!!!!!!! xxx
ISA, from Brasil, Sao Paulo ****** It seems it was a lovely warm day! Thank you for sharing, I am sure Keane had a great performance. I just did not understand well why the songs from the new album were not so considered as the old ones... I mean, it´s time to abandon the old ones and dedicate more time and expose to the audience the new ones, I guess. Sorry for this comment, it´s just my personal impression... Lots of love! XXXXX
I wish keane makes an extra solo gig in São Paulo, so I could go. Pleaseeee. Beijos, Regina.
So who looks the most "country" here? Perhaps Jesse with his rolled up pantlegs? Cute legs, Mr. Quin!.....Cheers, boys!...Sherry W., Michigan, USA. @sambawoman
MEXICO!!!!!! IM SO HAPPY!!!!! I love you Richard, thanks to share all this for us, you are so nice, ¡Love you all!
Is Richard tweeting from his cellphone? :D
wiiiiiiiiiii just 12 days!!!!! I love that pic!!! México!!!
Gracias por las fotos. Después de un concierto como el de hoy y con la calor que hace seguro que os adelgazáis unos kilos. Cuidaros mucho. Es importante tener la mente fría para poder seguir este ritmo. Realmente sois unos profesionales y unos grandes músicos. Está claro que hacéis esto porqué lo sentís. Y trabajar de esto. He podido seguir el concierto por la web. He notado ciertas variaciones en el teclado de Tim. Ha introducido ciertos cambios con el teclado eléctrico de color rojo. Espero y me gustaría que Tim viniera a Barcelona con el Yamaha K-20 y Tom con el órgano. Sería genial. Petons. Ya sabes Tim que eres mi Mozart particular. Marisa.
OHH MEXICAN FOOD :) XOXO TOM YOU LOOK SO HANDSOME
Thanks Mr. Km.com, I love your live blogs. In the next weekend our boys will give us the immense pleasure to see them live, here in Brazil. I'm very anxious and excited!
Sorry...I'm really busy lately and have no time to live blog but I hope to see you next time. Today I read that Keane will be in Brazil, São Paulo in August, 25th, Mr. Km.com is that true? If yes, please let us Brazilian fans know. Beijos, Regina.
Great pictures!!! Hope you had a great show!!! Love you guys!
I´m waiting for you in Mexico Guys see you on august 30th
What a AMAZING show, you are fantastic guys! I'm so excited, only 5 days to see you here in PARAGUAY! :)
Grazie di cuore Km , è stato davvero emozionante per me seguire questo nuovo liveblog, è bello vedere i Keane così in diretta!!! Un abbraccio forte alla band e grazie ancora per tutto questo!!! Sabrina da Catania! Sicily!
Been able to watch it live from Portugal, what a fantastic surprise!! Thank you so much for the terrific weekend you are giving us, yesterday and today, two awesome shows!! Also thank you for the photoblog, it's such a wonderful idea, makes us feel so close and emotional...keep on, you're amazing, cant't wait for October in Lisbon...♥ congrats to all, cheers!
Thanks for sharing this,we can be with you even if we live at the other side of the globe, I love u so so much, Enjoy the rest of your weekend,and have a fantastic Saturday !!! \(>.
What an amazing performance!!!! You did so well in this heat! I'm so proud to be a Keane fan!!!! xxxx
beautiful gig! I love you guys!! You made my day!! Come to Chile please! :D pd: I Tim, you are my life, i love youuuu!!!!
Thanks for the gig, dear brothers! hope you didn't feel bad in that hot weather)
Beautiful photos I really liked seeing the flag of México, the Mexican fans are very very HAPPY to see them again. Take care kisses to all. VIVA KEANE !!
Looks like fun. Yay, Tom in a short sleeve)) Watching the live stream now. Guys, you're sounding great, no exeptions. Lots of love, Tim, Tom, Jesse and Richard ♥.
Tom, Tim, Jesse, Richard : Muack! Muack! *crushing Kisses * (◕‿-)
SALUT LES AMIIS°°° ce festival à l'air trés sympa mais trés pittoresque par ses déguisements !!!! Eclatez vous avec votre public ******
While looking at the sequence of the photos, I hope no one got a burrito and then took the ride! Ooops!!,lovely pics!!
Thanks for the pic ..... receive a lot of LOVE from Mexico. 11 days to see you at Monterrey !!! :D
Enjoy this day Misters !! Thanks for the shoot to Mexico, I love you Keane, and a I love your photoblogs, and,and.. I love everything you do !!! \(♥.♥)*/ Love and hugs (¯ `♥ '¯). ✫"
please play snow under in MONTERREY MEXICO the next 29 of august!
Thanks for these great pics!!! Tim looks especially handsome today! ;) x
Did Jesse get caught in his undies??!!?? hahahaha!!! Wish I could be there! Good luck boys!
Jesse looks like he's in the naughty chair.
Yay México!! want a lot of pics, ok guys? have a blast! enjoy the sunshine!
Is it my imagination, or do Tim's legs look extremely loooong there? You go, Tim!....Sherry W., Michigan, USA @sambawoman
Oh, boy.....this looks like it's going to be one wild day! Have fun, gentlemen....:^)...Sherry W., Michigan, USA @sambawoman