V Festival live blog day 2
10.57pm: We're on our way home now, as are the band. Tim definitely spoke for the others when he told us tonight was "amazing". Thanks again for all your emails and comments - they've been great to read. Head back to km.com this week for more pics and vids from this weekend. And with that, we'll bid you a weary but happy goodnight.
10.34pm: He did it! An acoustic cover of Oasis's Cast No Shadow, with many thousand V folks as backing singers. Considering he only started practicing is earlier, we're very impressed. Now it's Under Pressure and then a quick dash away (to hopefully beat some of the departing traffic). We'll try to post at least once more before we call it a day. It's been fun hasn't it?
10.26pm: The band are playing Bedshaped (don't worry, one more to come...) and Tom's just told the crowd this has been one of the most exhilerating Keane shows ever.
Now, will Tom play his cover before the final song...
10.22pm: The view from the other side, during a stomping Crystal Ball
10.13pm: They're playing Perfect Symmetry as we type this. Still our favourite on the album. Such a tune.
10.07pm: We're quite proud of this one...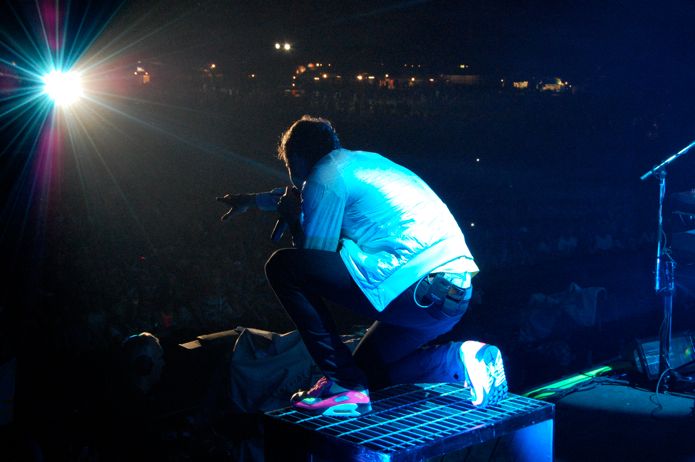 That was during Is It Any Wonder, which "went off" (as they say). Tom is properly fired up this evening. ANd the crowd seem pretty darn excitable too.
9.54pm: And here's how it was looking from out the front during Spiralling (ooh!)
MaryAnn asks if the set is shorter than the usual Keane gig. Yes, the band are doing 80 minutes tonight, which is a wee bit less than they would at their own show.
Oh, and nobody has guessed the cover yet - but some of you have got very close (right band, wrong song). We'll definitely film a bit if Tom does it...
9.41pm: Here are some pics from the show so far. Cracking atmosphere out there. "Let me tell you, this is an immense feeling standing on this stage in front of you people tonight," says Tom, just before This Is The Last Time.
9.25pm: They're on and the crowd are loving it. There's always something special about the last show of a festival weekend and this looks like being no exception. We can hear the crowd screaming along to Everybody's Changing from back here. It's gonna be a good 'un.
By the way, lots of you have been emailing to ask how many emails we've had this weekend. 534 at last count. Thanks for keeping us company.
9.10pm: Yes! We have wi-fi in a little room just behind the stage. Re-sult.
8.56pm: Quick one - Aline Shinzato has asked for a clue to the song Tom was practicing. OK, it's by an English band and it was released in 1995...
8.54pm: Six minutes til we have to dash to the stage - and we've got to pack up all our stuff before then (having learnt last night's lesson), so we'll make these the last ones before stage time. By the way, thanks to all of you who've been emailing ontour@keanemusic.com saying how much you've enjoyed the live blog. We're glad.
8.50pm: "Last live blogging, can't remember when that was, you kept on telling us Keane are working on an 80's cover and you told us to guess the artist... have you ever revealed the answer? I can't remember!" Gita, Israel
Ah yes, that was Karma Chameleon. But, it's a different one tonight.
8.45pm: The band are all now warming up. They just ran through Here Comes The Sun, which we've not heard them play before. Sounded grand. But that's not the one Tom was practicing for tonight.
8.40pm: "It has just occured to me that there are more updates today than there were yesterday... Does this prove that the signal is a lot better today than yesterday?" writes Vanessa to ontour@keanemusic.com
Yes, yes and thrice yes.
8.39pm: 20 minutes until we head over to the stage by the way and they're on at 9.20pm...
8.37pm: Here's pointing at you folks...
8.34pm: Tom is still in the dressing room practicing a song. It's a cover. And he might be playing it tonight. We won't spoil the surprise, but we'll let you know what it is if/when he does...
8.07pm: Here in the dressing rooms compound, the sun is setting on a lovely day...
8.05pm: Oh, by the way - check this out, the all-new Keane mug, coming to the online store tomorrow...
8.01pm: We're back from dinner. We had a very nice roast beef thing with sweet potato mash. And a Portugese custard tart for pudding. Lovely. We got back to find Tom in the dressing room, practicing a song...
7.22pm: Right, we're off to get some dinner. See you soon...
7.13pm: We're just back from the acoustic Absolute show, which was really fun. It was in a tipi in Absolute radio's hospitality area and the crowd got *so* into it that the band ended up doing an extra song (they did The Lovers Are Losing, Spiralling, Everybody's Changing and a bonus Somewhere Only We Know). Here are some pics...
And here's Tom and Richard chatting to Absolute's Christian O'Connell afterwards...
6.17pm: "Question for you...are there any children at the V fest?"
Yeah, there are quite a few. Not as many as you'd get at Glastonbury or one of the really family-friendly festivals, but there are definitely some kids about.
6.16pm: "Oh, are we gonna be able to see the accoustic set?" Ema, Argentina
Not immediately, but it will apparently be online in the next few days. We'll let you know when....
6.10pm: Here's Jesse. A few of you have been emailing ontour@keanemusic.com to ask where he's been this afternoon. "I met up with my mum and my friends Phil and Will and my goddaughter. We watched a bit of Iain Archer and a bit of Biffy Clyro. And I watched the Proclaimers! Best band of the whole festival."
He's now doing a spot of last minute practice for the acoustic session, which the band are off to do soon for Absolute Radio (having just done an interview with GlobalCool.org)
5.59pm: Bet you thought we couldn't top Katy Perry in a golf cart. Well you're wrong. We've got a picture of Lady Gaga's back (as she walked past the dressing room).
Needless to say, we won't be giving up the day job.
5.55pm: We've got the final wicket and England have regained the Ashes from Australia. If you're English, this is very good (and very big) news. Hurrah! "Renders my ticket for the fifth day tomorrow rather useless," says Tom, "but it's fantastic."
5.43pm: We're in the tourbus with Tom listening to the cricket. England are one wicket from an astonishing victory over Australia. Amazing. Tom's hoping they can hurry up, as the band have an acoustic session to do soon...
5.18pm: Right, here are some pictures from our wander...
The V Stage - currently featuring Biffy Clyro
Rocking the tutu look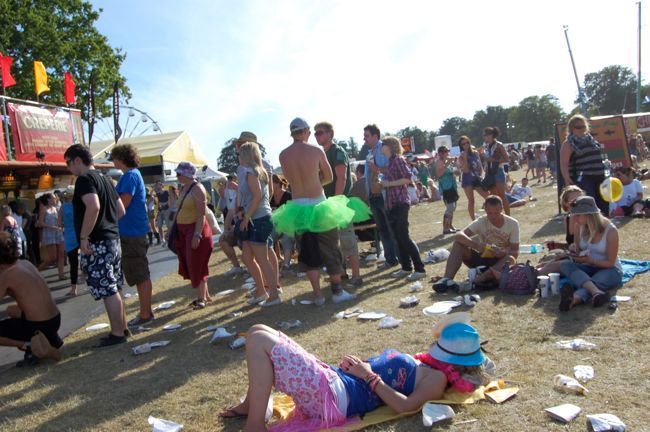 A bit hot for this weather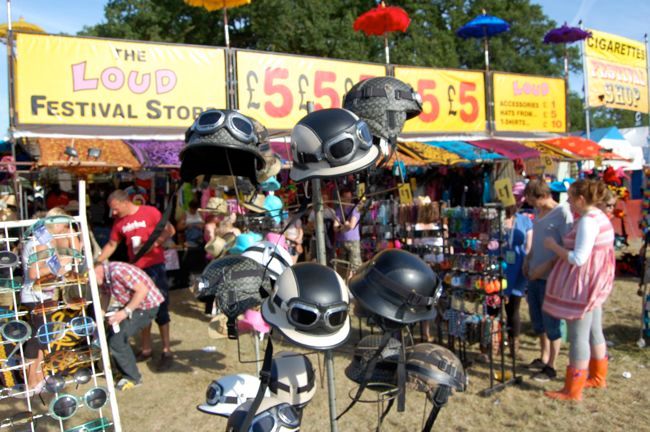 That black stuff on the floor is meant to prevent mud when it rains (as it often does at British festivals!). No such problems this year.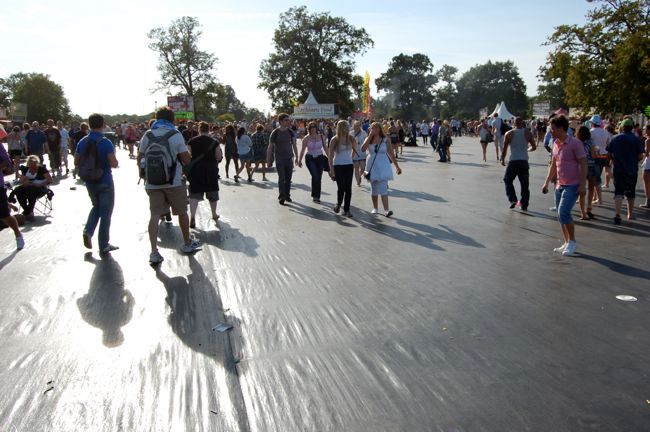 Three shots taken at the 4Music stage, where Keane are headlining later. Athlete were playing a very lovely set when we passed. For anyone who's been to V in previous years, you might notice that this is where the V stage used to be - they've swapped things around. But it looks as packed as it ever did!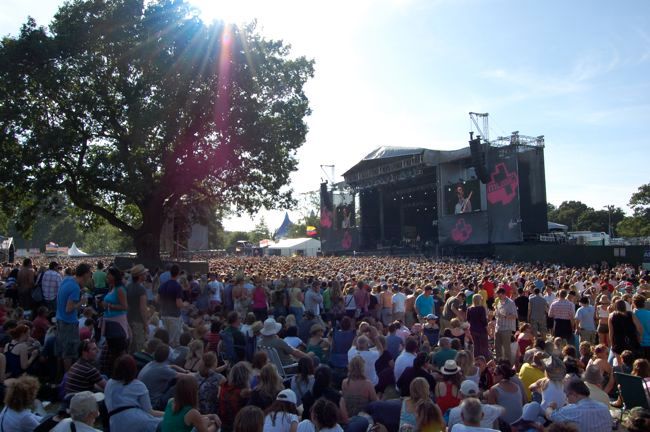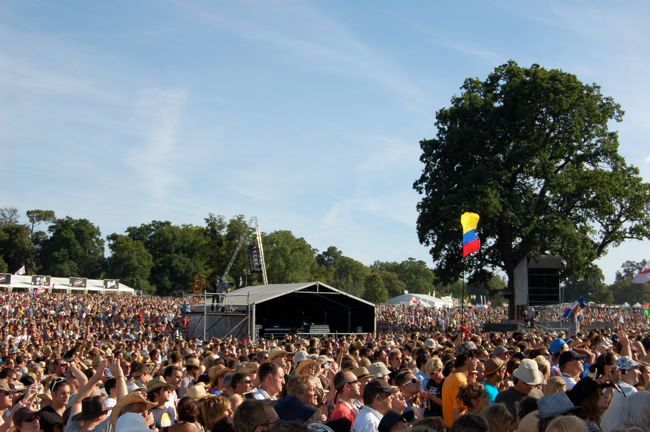 Afternoon tea anyone?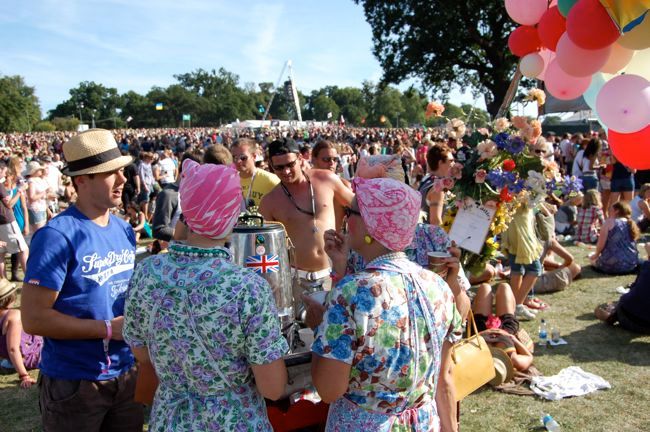 Not surprisingly, ice cream is rather more in demand at the moment...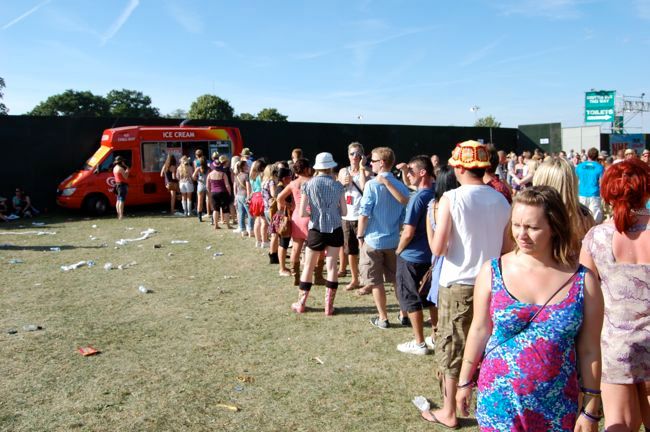 5.05pm: Blimey, and here was us thinking yesterday's site was big - this one is huge! Pics to follow shortly...
4.21pm: This just in to ontour@keanemusic.com from Charlotte, who is at the festival, in front of the 4Music stage, where Keane are playing:
"Much fun down here in the mosh pit. Still to survive the enemy. Wish up luck! Oasis cancellel. Shocker! X charlotte anna celine nicky.
And with that, we're off to take some pictures of the site...
4.16pm: The band are outside chatting to some journalists. It's actually cooler outside than it is in this dressing room, which seems to be slowly roasting us in time for dinner (with Yorkshire puddings and all the trimmings). Anyway, here are some more pics...
The band get ready for their podcast video interview
It's Katy Perry being filmed in a golf buggy!
The fellas, chatting with some journalists outside the dressing room
4.05pm: Interview done - look out for the video of it on km.com at some point. It was very funny. A few of you have asked who Richard was cheering for in the grand prix - the answer is Jenson Button.
3.23pm: Andrew and Chris are here to do their podcast interview - the one you guys asked the questions for:
3.06pm: Richard's back from watching the Grand Prix. Barrichello won it. Rich tells us it was "a good race". And now it's his turn to do a Yamaha interview.
3.01pm: Tim is currently doing an interview for Yamaha's website. So we're trying to type this very quietly...
2.30pm: "How many people do you suppose are at the Festival today?" asks -L.
We just asked Colin and he says 85,000 people. Crikey.
2.26pm: The backstage area is abuzz with the news that Oasis have cancelled their slot tonight, as Liam Gallagher has laryngitis. Snow Patrol have taken their place. But, hey, you'd be better off watching Keane (who are on at the same time) anyway.
2.20pm: We made this little film during Bedshaped last night.
Mighty.
2.08pm: Here's Keane's production manager Ant, hard at work in the production room, which is in another portable office, next to Keane's dressing room. Ant's kids were up in Staffs yesterday. Impressive American Football skills.
2.05pm: "So you slept inside the bus, didn't you? How comfortable is it?" asks Ana in Colombia.
Yes, we did. It's very comfortable (if a little coffin-like), but we found it a bit hard to sleep when the bus was moving (it was properly rocking and rolling). Beth, though, is the other way around - she says that as soon as the bus reaches its destination she's "wide awake".
2.00pm: Lunch was chili con carne. It was lovely, but the catering tent is very, very hot indeed. It really is baking hot here today. There will be a lot of lobster-red festival goers by the time Keane take to the stage.
1.36pm: And here's Tim, struggling to get a mobile phone signal
Yes, that one will be in our arty gallery exhibition too. Right, we're off to get some lunch...
1.24pm: Here's Tommy!
1.05pm: Lali and Luli and Eve in Argentina ask if the internet connection is better here in Chelmsford than it was yesterday. Happily it is. Which means we've been able to download a picture of their natty Keane flag and post if here. We just showed Tim, who thinks it's "cool!"
It's Mama Mia now. You get the feeling Bjorn Again are helping to clear a lot of hangovers.
1.02pm: We're back over by the dressing room, which is near enough to the V Stage to be able to hear Abba tribute act Bjorn Again belting out SOS. Here's Richard, who's just left the management meeting a bit early to catch the start of the grand prix on the tourbus TV.
"I have a huge question : Where did you sleep during the night ? on Bus in park at V festival ?"
asks Ana Catarina , Portugal
We all slept on the bus as it drove between the two V Festival sites, in Staffs and Chelmsford. But km.com certainly slept much better once it arrived and we stopped bouncing around in our bunk!
12.57pm: Oh, and here's an amazing cross-stitch which was sent to us by Undral from Mongolia. We showed it to Tim last night just before the show and he was very impressed.
12.46pm: Right, let's see if we can respond to some of your many emails.
Ana Lorena asks if we saw Oasis around yesterday - yes, we saw both Noel and Liam, even though the band had their own compound within the dressing rooms area.
Aleksandra from Toronto, Canada was the first of many to point out that avocado is a fruit which can work well with burgers. Fair point. Meanwhile Adriana from Monterrey makes a case for pineapple in a burger. We're not so sure about that one. And Lara claims apple is nice with a burger, which is just wrong!
Jenni asks who woke up first (and guesses either Colin or Beth). We're pretty sure it was Colin, who was in the bunk opposite us and got up at about 8.30am.
And lastly, here's an amazing cross-stitch which was sent to us by Undral from Mongolia. We showed it to Tim last night just before the show and he was very impressed.
12.28pm: We've just been for a wee wander and the weather is even warmer than yesterday. It's properly hot out there. Here's the bus, lined up with lots of others...
Here's the back of the V Stage (the first act of the day is due on anytime now)
And here's Keane's backstage HQ, where the band have gone straight into a management meeting to talk about, um, important management things.
11.58am: A new day deserves a new page...
Comments (916)
hmmmm perhaps a little late... but... WOW!! You guys are really great!!! Great music, that makes your heart does boom boom ;-))
this blog it's interesting an i think that Tommy is very handsome in this pics
I love you this is band KEANE BRAZIL- GYN!!! HUGS!!!
HELLO TOM, TIM, RICHARD AND JES. I'M KARLA RENDON, I'M FROM OLINALA GUERRERO MEXICO. SINCE I CAN SEND YOU, YOUR DRAWING. BUT I DO HIM SINCE YOU TO SEND IT? PLEASE SAY ME. IF YOUR MAIL. PLEASE, I LOVE KEANE KARLA KEANE BYE BYE
When I read that the guys did "Here Comes The Sun" in practice I teared up. If Keane did a George Harrison song... well, my life just might be completed. I'm sure they'd do him justice. :)
What can i say, Tom's cover was better than oasis' original ANYDAY! Keane all the way!!
amazing...amazing...fantastic, I wish I was there...it's great to see you guys, thank you for keep informing, perfect symmetry always be my favorite too, especially this part..."you'll find life is unkind and over so soon..." Tim, love your zebra-shirt...:D
i love tom's shoes and shades, tim's always awesome shirts, and jesses ''jazed up'' guitar!!! Love from California!
Oh!! I forgot to say to them that the photo of them 9:54pm is very cool! They are too many colors! I love the colors! And the triangles woow! Excellent detail, certainly, Tom I am charmed with them your tennis shoes are brilliant!!
Hahahaha!! Now I deal! Is Tom tanned for that you were in the beach? Hahaha! I suppose that it is, I saw sand and a girl in Bikini in the photos o_o hahaha!! I had been charmed with seeing these photos with KEANE in concert, but in bikini hahaha!!! and Tom, you meet beautiful with glasses, are very sexy! your video of "Bedshape" made me cry! this is a song very sentimental for me, and more because it´s the finally of the concerts, and the part where Tom sings "wohoho" It makes me remind the concert of Mexico City, really that is a deliciously beautiful song!! I love You my little Tomatoe! (tommy) I want to know you personally!!!
These were two incredible days!! Thank you for the liveblog!! I'll be waiting for another one soon!!! Lots of kisses!!
Hi KEANE, first I'm sorry that I had to renounce to follow the live blog, this weekend... But I devoured it lengthily when I came back home quite late, yesterday evening... Quite funny as usual and most of all the wedding dresses, actually :P !!! ... Thanks for the picture of Beth, so pretty, and it's so unusual to see her... Richard, kudos to Rubens and it's so funny to think to Jenson supported by the man with the buoy (you know, this picture upon which you pull a face in the morning as only a mother could love !)... Anyway, if this could help him to get a new victory because he rows for the time being !... Totally enthralled by the amazing drawing of Tim's face... Great !
Greats pics, as always! The guys looks nice, lovely :) ... KeaneMusic.com made my day, yeah! hahaha... Greetings from Chile. Daniela.
★★★★★★★★★★ ★★★★★★★★★★ ★ ★★★★★★★★★★ ★★★★★★★★★★ ★★★★★★★★★ MANY THANKS FOR THE PHOTOS !!!!!!!!!! TOO FANTASTIC !!!!! ★ TOM, YOU ARE TOO HANDSOME !!!! ♥ VERY VERY SPECIAL ☼ TOM ..... YOU ARE INCREDIBLE !!!!! ☼☺WE LOVE YOU ...... ♥ SWEET ANGEL ♥ ...... TOMMY, YOU ARE THE LIGHTHOUSE WHICH ILLUMINATES OUR LIFE AND WHICH IRRADIATES OUR SOULS !!!!!!!!! ★ TOM, YOU WILL REMAIN FOREVER OUR BEST FRIEND !!!! ★ YOU ARE ALWAYS THE WELCOME FROM US !!!! ;) ........ A BIG KISS TO YOU FROM ★ A.B ★ (ITALY) …. ★★★★★★★★★★ ★★★★★★★★★★ ★★★★★★★★ ★★★★★★★★★★ ★★★★★★★★★★ ★★
Thanks for the fantastic blog guys :D xxx
After they came off last night, jesse was outside the tour bus and we shouted his name and he turned round and waved at me, my sister and my mum! that was the cherry on the cake of a great weekend! wish tom, tim and richard were outside aswell...
Ual, great pictures. It´s really amazing, thanks guys !!!!!!!! I love you, Tom !!!!!! Raissa. Brazil - São Paulo.
thank you very much for the blog!!! it´s amazing! XD
I was there last night and I cannot explain in words how amazing the atmosphere was in the crowd. It was a real honour to have been there!! I prayed that I would get up near the front and I managed it. You guys connected so well with the audience and as always the performance was sublime! Thank you so much for making a nearly middle aged lady (loose terms!) feel extremely young again. Tom, I love your voice so much. Tim, your lyrics touch my heart and Richard you have got the beat (I am learning drums and am in awe of your no.8 challenge!!). Thanks again!!!!!!!
Wow most of last nights gig on 4Music excellent, excellent, excellent, one of the best Keane gigs i have seen you were all on perfect form..... Great cover of Oasis but Everybodys changing was my favourite sang my heart out at home sat on my sofa as Tom requested, well done guys your all fab. Also loving Toms Tan, if he gets any spare time a view of his white bits would be a great treat xxxxx LOL
Incredible blog. Thank you so much, it has been a marvellous weekend thanks to you all. See you at BEATSTAD. My 4th KEANE concert this year. I´ll bring my family and nephew and we´ll sing as loud as we can to support the best band in the world.
Ciao Keane, sono contentissima : non mi aspettavo oggi di trovare ancora tutte queste belle novità !!! Ho guardato con gioia le vostre foto e letto attentamente tutto il vostro diario, entrare nel vostro mondo musicale è davvero entusiasmante , riuscite sempre a trasmettermi tanta allegria e mi regalate continuamente emozioni ! Grazie per tutti gli aggiornamenti, vi trovo tutti in splendida forma ! Adesso vi devo lasciare perchè sono un pò stanca, stamattina sono andata al mare e dato che l' acqua era abbastanza calma ne ho approfittato per nuotare un pò ! Vi mando un affettuoso abbraccio, ci sentiamo presto , saluti da Sabrina from Catania !!!
I love this blog! the pictures are lovely. I wish i had seen the boys walking around at the festival! lol. The boys were amazing yesterday! It was fantastic seeing them again, ive missed them since the SBE gig. I liked Toms comment about oasis lol. I cant stop thinking about yesterday!, the boys were amazing as always. I cant wait for the next gig, love them!!!!! x
@emmakate3 swety!!! jajajjajaa thats funny he truly is a gentleman but he was very kind to sign you t-shirt, by the way does it says something readable or its his signature.... Oh God if that happens to me I this I would be jumping non-stopping for days! hahhahaa well hope you enjoy the amazing expirience!
@evecalderon. Just starting to upload my pics now. my videos aren't that great coz it was so loud it went fuzzy in places but i might do bedshaped even though you cant hear the chorus, and maybe under pressure. It was a shame tom couldnt come out in person :( But the security guard was very kind to take it to tom for me! (apparently tom was still veeeeery sweaty lol, not i would have minded!!) xxx
Looking forward to see "cast no shadow", guess it's amazing by tom... Guys hope to see you one day or another =) love from ITALY
Still buzzing from watching you guys on 4Music last night!!! All I can say is WOW!!!!! Oh my God wish I could have been there!!!! Really wish you'd release that whole set on DVD, it was brilliant!!! Also loved Killers, Jet, and Snow Patrol, but not half as good as you of course :-)
i agree about Oasis song, i can´t wait to hear it!!
Oh to have been a fly on the wall for Here Comes the Sun...and at V for Cast No Shadow! - here's hoping a video of that will surface soon....Thanks for the great live blog this weekend km.com (and missus ;)).
hi Cecilia, soy Flor de Argentina tambien!! anduve todo el dia en este blog, es bueno ver que sigue sumandose gente de lationoamerica ademas de las que conocimos durante el dia!!!
By the way, I'm so sure Tom did a great job with Oasis' song. I didn´t listen to it, but I know its better than the original, as aaaaaaaalll the covers the guys do.
GREAT BLOG!! THANK YOU SO MUCH! The Argentine and British flag... Amazing!!!! Lots of love, Cecilia. Argentine living in Mexico
Hello lovely Keane fans; after trawling the web for some of the interviews, I came up with these - enjoy! We love YouTube! Love from NY NME Interview Thomas: http://www.youtube.com/watch?v=0tog59ZqoTE Absolute Radio Interview Tom and Richard: http://www.youtube.com/watch?v=1cX7GvcRMtY
HELOISA, ISA FROM BRASIL ********* THANK YOU KEANE BAND AND KEANE STAFF for this great weekend! See you! Have a great week! LOTS OF LOVE TO MY DEAREST BAND! XXXXXXXXXXX
I wanna see Tom's version of Oasis cover, did he try to appease their fans?! He is so kind ! :)
actualy i gave out all i was worth in the last round so it's goodnight from him.
guys amazing pics !!! looks like a perfect show like always !! thanks for the pics , i wishi could be there with you suppourt and enjoy the show :( but anyway i hope you know that you have my suppourt wherever you will go . i love keane !! you are the best in all the world and tonight i promisse you and i promisse to myself that i one day i be there with you is a promise from my heart my angels . i love you kisses xoxoxoxoxoxoxoxoxoxoxoxoxoxoxoxoxoxoxoxoxoxox ,for Jesse,Tim,Richy and Tom. xoxoxoxoxxoo Rose xoxoxoxooxoxoxoxoxoxoxoxxoxoxoxoxoxo
Holaaa Como Chikas Como estan ?? amoo esta pagina es una de mis preferidas entre otras de keane:) ai tom sos el amor de mi vida te amoo sos mucho hermoso jajajaajjaa somos masss Jjajaja
liked the advertisement for the trainers , i wonder if they will incorperate thair way into my dreams thus makking them reality , chances are slim to none, but in the long run, what is it worth, geting back to mother earth, giving back to her goodself
Acabo de volver :P Ahh... Y qué puedo decir? Amé este Live Blog. Es una lástima que ya se haya acabado, aunque eso sólo significa que falta menos para el próximo jajaja Se disfrutó mucho, y espero que todos nos volvamos a reencontrar madrugadoramente en el siguiente xD jajaj (L) @emmakate3: yeah, pleease, more details!!! You lucky girl! lol Ya me imaginé el cover, y no puedo esperar a escucharlo!!! xD Oh and Thanks a million KM for these 2 great days of live blogging!
Aii ALGUNA FAN POR AHI ??? JAJAJA BUENO LES DEJO MI MSN eve.sc_13hotmail.com
Holaaa eve e!!!1 Como andas??? sos eve la q conozco del msn ??? :o jajaja Como andas chikas ???
ajajajEVEEEEEEEEEEEEEE FUAMAD!!! HOLAAA!! Y LA OTRA KEANERA ARGENTINA, VAMOS TODAVIA Q SOMOS UNA BANDA LOKO!!!!! KAAJAAJAJAJ! EVEEEEE SI TOM SI, PERO MI RICH STA CADA DIA MAS BOMBONAZOOOOOOOOOOOOOOOOOOOOOOOOOOOOOO!!!!!!!!!!!!!!! ES HERMSOOOOOOOOOOOOOOOOOOOOOOOOOOOOOOOOOOOOOOOOO!! Y ESA FOTITO Q ESTA CON LOS BRAZOS ABIERTOS MAS AJAJJAAJ! YA ME LA GUARDE! JAAA1!! DEJO MI MAIL: leonela_prandini@hotmail.com! VAMOS KEANE Y MAS FANS D ARGENTINA!!!!!!! WIIIIIIIIIIIIIIIIIIIIIIIII
ohola Evelyn!!!otra Argentina!!!ojala lo noten, que somos tantas de por aca
HOLA LEOO !!1 COMO ESTAS AMIGA ?? sOI EVE :) jajajajajaa Bueno la verdad que TOM CHAPLIN esta cada dia mas rubio pero no importa porque sos demasido lindoo :) I love you Tomas:)
yes!!details!!!! what did Tom said to you???what did u asked him???
Ual, great pics. It´s really amazing, thanks guys !!!!!!!! I love you, Tom !!!!!! Raissa. Brazil - São Paulo.
Tomi I love You !!!!! Holas Chikas !!! Como estas?? Soy evelyn de arg.. =) Buneos muchos saludos
Aii Tom Your are soo beauty I love you Tom
Holaaa Keaneross !!! Qe buenas fotos por dios cada dia se pone mejor esta pagian :) Tom te amoooo sos hermso mi vidaa
you´re right pili!!!i loved the way he dressed in the under t i sea tour...but now i got ised to the colourful clothes
@emmakate3 Wow please!! spill more details.... you were so lucky I bet you almost fainted!
I'm just teasing you boy...you can use whatever you want and you'll still be the most gorgeous man alive... sounds delirious? I don't think so... just truth!!! ;) Pili
great!!!you are very lucky!!!! please post your photos soon!!!!!
Wow what an amazing day. The band were as good as, or if not, better, than the shepherds bush gig and the crowd was electric! I waited behind a barrier by the tourbus with a few others to wait for the band to come out. Everyone else left and it was just me. Then one of the security guards got tom to sign my t-shirt for me! AMAZING! Pictures to follow when I get home tomorrow! Xxxx
Ah, I've never heard that Oasis song. Sounds like the show was excellent. Then again, Keane always is excellent.
they are just arms.they cant be ugly or something:) maybe we should start a campaign " we wanna see these arms" hahaha
i always wonder the same, maybe he doesn´t like to show his arms...i don´t know but he never wears short sleeves
i dont know why he never takes the jacket off..strange
parece que me quede sola...it seems like i´m alone buaaaa don´t leave me
i agree with you Pili... he should have taken off the jacket at least!!! and show his arms mmmmmm
dejenme a mi que le cuido los sueños jajajaj mientras m envidian...vayan tranquilas
o quizas tom tenga pesadillas. habria que estar al pendiente. Bueno ya en serio nos estamos viendo aqui. mientras los extrañaré a todos mucho.MEXICO
thanks a lot!!! nice pics and you're soooooooooooooo kind to read ours mails.... ;) so...keep on sending it....TOM....it seems that you can't understand God's message !!! : ITS SUMMER !!! hot air, sun, sun...so please take that shirt off!!!!!!! :) Pili
KHQ..THANKS FOR TAKING US ALONG THIS "ALL ACCESS--I'M WITH THE BAND" event....for those of us that are worlds away....it felt as if we were right beside you (that means a job well done)....GOOD NIGHT
chau Honey!!!fue un gustazo charlar con vos, yo digo lo mismo del trabajo jajaja va lento. no vemos!!!!
Un abrazo a todos y muy buenas noches!!
Bueno, puse yo también me voy, ya es hora de trabajar (Oops! Eso era lo que debía hacer durante todo este día) Muchachos, fue todo un placer. Dra House, Vicichuela & shesay, nos volveremos a contactar, ¿Verdad? ¡Espero que sigamos en contacto! ¡Una feliz noche y que sueñen muchísimo con Keane! ¡Nos hablamos muy pronto! ¡Un enorme abrazo desde Colombia! ;-) Cheers!
@Deb: ¡Que tengas una feliz noche! ;-)
@shesay: ¡Ja ja ja ja! ¡No te dejes quitar el computador! Uno nunca sabe, ¿Qué tal que reporten cuando Rich hable mientras duerme? ¡Ja ja ja! :-)
hey Deb otra de Argentina!!! senti lo mmismo!!! nos vemos q estes muy bien
@honey. coincido también, estamos esperando por los sueños de tom. a propósito mi sobrina ya se dió la vuelta para ver si ya le dejó la compu......jajaja no sabe lo obsesiva que puede ser su tia.
@shesay: De acuerdo... Leaving so soon!! Ojalá jamas se fueran... ¡LiveBlog diarios! ¡Ja ja ja! No, no sería lo mismo... Pero esperaremos el siguiente con muchísimo ánimo, este funcionó de maravilla!
THANK YOU SO MUCH, GUYS. I HAD A GREAT DAY WITH YOU. I THOUGHT TODAY WOULD BE A LONELY DAY BUT IT WASNT COZ WHEN I FEEL ALONE YOU'RE ALWAYS THERE TO REMIND ME THAT I AM NOT. LOVE YOU SO. THANK YOU ONCE AGAIN. TAKE CARE. KISSES AND HUGS FROM ARGENTINA. DEB :)
tenes razon honey!!es lo q estamos esperando jajajaj
i can't believe he played cast no shadow !!!!!!!!!!!!!!!!!!! that song, of all bands.... LOL excellent!
Thank you a lot for taking care of the fans that couldn´t atend to that event,like us in another country, far far away, the pictures are amazing, and Tom had such nice touch playing a Oasis song ! Thank you so much for this, that´s why I admire Keane so much, besides awesome music, they care about their fans like no other band does. My admiration and love for you guys gets bigger everyday. Love from Sao Paulo - Brazil
esta despedida me recordó cuando keane se presentó en Monterrey en los comentarios del lugar donde se presentan(live) se hizo una convivencia parecida y la despedida fue horrible! aunque esta despedida es mas dificil pq somos keaneros de latinoamerica. ya sé, el que mucho se despide.......
Thanks Keane for wondwerful pictures, I love Keane!!!!!!!!!!!!!!!!!!!!!!!!!!!!!!!!!!!!!!!!!!!!!!!!!!!!!!! THANKS
Omg !! cast no shadow?! *cry* I would sooooo love to hear Tom singing that!
Thank you guys for a wonderful sunday! My sister has finaly relized your magnificence and now is reading yesterday and todays blog from a diferent computer! I cant wait for the rest of the videos and pictures to be posted! Love New England and friends
@shesay, vicichuela & Dra House: Creo que estamos esperando a que digan, "En este momento, Tom está soñando con cricket" ¡Ja ja ja ja ja!
Have a wonderful night Love you°!!!!!!
Adiós, Yessica y Tomás! ¡Un abrazote desde Colombia! ;-)
Thank you very much for caring about the fans that are far... I really enjoyed this a lot, was veryfun... thanks again guys. See you and G'night. From Jess in Mexico city.
bye a todas mis amigas del blogg nos evmos luego.....
yo tb me quedo un rato shesay, la pase espectacular!!!!gracias por la onda chicos!!
Thank you Keane and staff, making my weekend so especial.Wishing you all a happy way home.Enjoy the days off. Always thank you! Much love ... TOM: you have truly been a wonderful blessing in my life! thank you ever so much! Love you! Rachel
KM.com: Thanks for the best liveblog ever :) I'm looking forward to see the podcast video, don't forget it, please!!! HUGE HUGS FROM CHILE :)
wwooaahhh,,great pics on a great moment!!! loves it guyzZzZz!!!
Thanks soooo much for the blog! I wanted to wait tilll towards the end to comment.You guys were brillant, goodnight! Love from Boston
¡Adiós, nuestro Tom mexicano! ;-)
@TOKM,@VICICHUELA,@HONEY Y TODOS LOS KEANEROS LATINOS. ME LA PASE SUPER BIEN, ME ENCANTO HABLAR CON USTEDES. NO ME DESPIDO PQ SEGUIRE AQUI UN RATITO MAS CON LA ESPERANZA DE QUE FALTE ALGO. MEX
@shesay: ¡¡Cómo olvidarme de ti!! ¡Eres hasta ahora la única tocaya que conozco que comparte mi gusto po Keane! ¡Y también eres muy amable! ¡No te olvido!
mm bueno pues asta luego compañer@s del live blog nos vemos la verdad me la pase super aca platikando con ustedes aver si luego nos encontramos por aka posteando, bye.....
Mi MSN es ana_home@hotmail.com ;-) A ver si seguimos charlando de Keane, de conciertos, de comida, del clima, de nuestros trabajos, de las transmisiones, de música, y de más Keane! :-)
Éste ha sido el mejor liveblog de mi historial de fan :)
@HONEY. no te olvides de mi!!!!
ohh!! ya se acaboo? no lo puedo aceptar!!, que voy a hacer??? (@_@) en Mexico apenas son las 5:21 PM
Great blog! Thank you Keane and km.com! Have a good journey home! Good night everybody! ;-)
Thanks to everyone involved in making this weekend one of the best ever i dont know of any other bands that treat their fans so well it has been fantastic and very funny at times thank you so much keep up the good work kisses from staffordshire (uk)xxxxx
Mis queridos compañeritos de LiveBlog, ha sido muy grato conocerlos, ¡Ustedes son muy lindos! Y espero que podamos seguir en contacto. El haberlos conocido hoy me anima a participar más en los Blogs a ver si me los encientro más veces, hoy fue genial! ;-)
@Manuela: ¡Ja ja ja ja ja! ¡Así es! ¡La típica despedida de mamá! ¡Ja ja ja! :-D
lo hicieron! ja si alguien quiere comunicarse conmigo agreguenme flopy_jm@hotmail.com
@niza: No te había visto!! Cómo estai??
si asi es mm como ya lo habia dicho fue el fin de semana mas keane que he tenido jeje, mm pues ... ---- thank you very much guys, for fun during this weekend--- this was great this live blog, thank´s....y pues tambien que chido que pudimos aca platikar de los keane y pasarnola chido @shesay, dra. house, honey.
Thank you very much " Should not the giver be thankful that the receiver received? Is not giving a need? Is not receiving mercy?" / F.Nietzsche/ and " Love is the only sane and satisfactory answer to the problem of human existence." / E. Fromm/ Good night
Chicos: lamentablemente se acabó nuestro súper KEANE-weekend :( Lo pasé demasiado bien conversando con todos ustedes :) Muchas gracias y espero que nos "leamos" pronto en un nuevo liveblog :D Abrazos a todos!!
acá estoy! esperando quizas llegaban al bus y posteaban la despedida
Excellent blog!!! I loved it and I hope you'll do it again some time! I'm so glad that the cover song wasn't Jesse's Girl!! I'm sorry I just couldn't resist it! My Bad!!! LOVE YOU KEANE!!!!!!!!!!!!!!!!!!!!!!!!!!!!
gooodnight!!!!!!!!!! que tenga una buena noche y que durman con los angelitos!!!!!! y como dice mi mama ... que la virgen los acompañen!!!!!! los amo!!!! garcias por ese blog thank you!!!!
@tokm & @Dra House & @vicichuela, ¿Aún están aquí? :-D
oh no, the end :-( but thanks again! have a pleasant journey
ayy noo mm haaa pues creoq ya fue todo
TOKM. Viniendo de keane si puede ser un gesto de amabilidad. de keane siempre podemos esperar lo mejor. aunque ahora viene lo peor......la despedida. yo no queria aceptarlo, pero así es.
Thank you very much for the effort km.com. You are fantastic! TOM, Your new sports footwear are very excelent ! I am charmed with them! Very cool. Kisses from Paraguay
KEANE & KEANEMUSIC: Thanks indeed for such a wonderful weekend! It was one of the most enjoyable times I've ever had, besides the gig in my country!!! Unforgettable!!! ;-) Also thank you to all the Keane Fans who made this a fun experience! You're a peach!!! You even had me in stitches!!! :-D
Thank you so much for this incredible time guys!... the best weekend of the year XD!
Thanks for the blog guys!!!! Really enjoyed reading all it and to see all those pictures!! It was really cool!! Safe trip home and good night!
OH, it's over. :( thanks guys, have a good rest! :]
@HONEY I'M WITH U I'LL WAIT N WAIT N WAIT HA HA
aaaaaaaaaaawn thank you very very very very much for being with us this weekend, i'm extremely happy !!!!!!! you rock, Keane !!! thank you thank you thank you !!!! Lots of kisees from Rio-Brazil !!! We all love you, Keane !!! The crew have been amazing and i'm proud of being your fan, cheers ;**
@tokm: Como que ya se terminó esto, C'est fini!!! :'(
Thanks again guys... this was really great! see you soon. Cheers! :)
KEANE :D Thank you so much for a really great show, we were following it on 4Music all the way, :):) Its great to see you all looking so happy and relaxed, and still having so much fun! Specially after such a long tour :P its been a fantastic blog, thanks km.com, lots of love, Alice & Jo xxxxx
será verdad que esta CANCIÓN '' CAST NO SHADOW'' trata acerca de vampiros pues estos no pueden ver su sombra. será???
Oops! Ese es el mensaje de despedida. Nooooooooooooooooooooooooooooooooooo!!!!!!!
Why does TC always wears sleeves, even when the heat is cracking up the floor?
@honey @dra. house: mm ya se termino?
Pues imagino que falta el mensaje de despedida para que ahora sí tengamnos que volver a la triste realidad... :'(
They just showed it on TV, Cast No Shadow followed by Under Pressure, WONDERFUL
Goodnight Keane and crew =D Fantastic weekend and really enjoyed seeing you from the front row last night! Come back to V next year!!
waaawww Cast No Shadow!!!!! that's great!! mi sueño se hizo realidad, Keane haciendo un cover de oasis! jajajaj Kisses from Argentina!♥
@shesay: hehe si asi es tom tiene la mejor voz, aja pero pues ahora que seguira???
@honey u r funny..but u r right.i would hang on even if they were talking about blue pj's..hahahaha
@tokm: ¿Crees que Oasis canceló porque les disgustó que hicieran un cover de ellos? ¿No crees que Keane y Snow Patrol cantaron los covers como un gesto de amabilidad debido a la cancelación?
Ahhh that's the track they did the cover to last night! Queen - Under Pressure.
@Mrs_Pevensie: Claro!! Agrégame a tus contactos de MSN: marcelacgv@hotmail.com :)
@TOKM. ahora si ya no entendí. snow patrol y keane cantaron cada quien un cover de oasis?????? pues es increible y conociendo el genio de los de oasis será por eso que cancelaron su presentación de hoy? de cualquier forma todo en voz de tom es mágico. es raro, pero ya no puedo esperar para escucharlo.mex.
They haven't said 'Bye' so I'd rather wait (Yeah, I'm desperate *LOL*) :-D
TOMS SINGING IT NOW AND THE CROWD R JOINING IN WOOOOOWWWWW
KEANE ON 4MUSIC NOW WITH THE COVER!!!!
i´m gonna miss you girls and boysbuaaaaaaaaaaa
Yo no me voy hasta ver el video del podcast :D jajaja...
You will hear from them very soon, it takes a VERY long time to get away from the car park, yesterday I was sitting in my car for an hour before I moved about 1 metre, it was crazy but good with Keane blasting out my car stereo :)
or the KM bloggerman will tell us their experience while trying to escape from traffic jam!! :-) That could be fun!
Dra_House: Si que lo es! pero ya quiero puro salir XD!!!!!!!!!! por que no hablamos por msn o facebook? :B
Well, If the show was our focus, then it's time to sleep. If we want to read some other lines on the blog like "Tom is wearing a blue pajamas' we could still hang on!!! Perhaps they're hungry after this show so they'll tell us where they're going...
@Mrs_Pevensie: Reconozco que trabajar en casa es demasiado bueno :D Pero aprovecha que aún estás estudiando!! Tienes al menos dos meses de vacaciones!! Cuando te titulas y empiezas a trabajar, echas de menos los años en que eras estudiante :( Además, tu carrera debe ser súper entretenida :)
That is AWESOME!!! I knew it had to be Oasis!! I wish I could have heard it!!!! Amazing Liveblog y'all!!! x
@vicichuela i feel the same i want this thing to go on forever.this is great.who knows how long it is gonna take till we have another live blog!!!
Bit late to the party (Ashes celebration) - can't wait to hear Tom's Oasis cover, an oh so brave yet v exciting move indeed. Would so love to hear Tom sing in the open air on a hot summer night... Please put this up on km.com as an official vid. Can't get More4 in this area of negligible reception so hoping Keane will make it to the C4 highlights tonight... Thanks for the blog
Cheer up, vicichuela. There's always the recorded interview by Andrew and Chris to look forward to, not to mention future updates and music by the band. Hope we "see" each other again. :)
acabo??? yo ando bien perdida, toy escuchandoa snow patrol =( uds podian escuchar a keane?
Ohhh acabo de leer que oasis cancelo su show hoy XD! *oasis cancelled their show :O*
ok, thank everybody for this impressive live blog: all keane team and the fans of the best band in the world :) night night everybody! :)
NOW WHAT!!!!!!!!!!!!!!!!!!!!!!!!!!!!!!!!!!!!!!!!!!!!!!!!!!!!!!!!!!!!!!!!!! !!!!!!!!!!!!!!!!!!!!!!!!!!!!!!!!!!!!!!!!!!!!!!!!!!!!!!!!!!!!!!!!!!!!!! !!!!!!!!!!!!!!!!!!!!!!!!!!!!!! :'(
@Dra_House: Oh por dios! quien como tuuuuu!! :O! Yo voy en 2do de diseño xD!
i´m tearful, this is about to end, what im gonna do!!!
I knew Tom would be "great" with the acoustic cover on the stage. How can't it be! Awesome!!! I just wish I could have been there. Thank you soooo much for nice pictures and stories. I hope you all enjoy the rest of the last day of the festival!~ :) Also, hope all you can take good rest later.
@shesay:que crees que dira oasis,?? you think you opine oasis??
hahaha i'm a little bit lost:S
Now run for your lives! Leave the place early before the traffic jam of departure eats you alive!! Ha ha ha! Well done, guys! ;-)
please tell me someone recorded it..pleaseeeeeeeeeeeeeee..we all have to see it
Qué raro que no hayan terminado su presentación con Bedshaped y hayan optado por los covers...
Snow Patrol doing another cover by Oasis and there's no booing, at the begining when singer said it'll be wonderwall, crowd were booing, but when he started playing it everybody was enjoying the song and it's seem that the crowd enjoying it like there's Oasis on stage
@Mrs_Pevensie: trabajo en mi casa, por internet :) y tú qué haces??
Wow, Keane, An Oasis' cover! It was really great from you!!! ;-) How sweet!!!
hey there is a lot of people from argentina and all those places wii well i'm from monterrey :D
Oh we must hear that, it's one of Oasis's best songs....As he faced the sun he cast no shadow...
HELOISA, ISA FROM BRASIL ************ OASIS´COVER?????????????????????????
Cast No Shadow!!!!!!!1 whoooooop! I can't believe it!
OMFG!!!!!! Keane did Cast no shadow, I'm dying. please tell me that someone recorded that!!!!
@shesay: mm la verdad bien creo q muy bn, mmm si me gusto hee
@Dra_House: de santiago tmb :O!!!!!! que emocionante XD! que haces trabajas o estudias ?? a todo esto... hicieron un cover de oasis no lo puedo creer jajajajaaja!
Hope we get to see some of it xx
Cast No Shadow!!!!!!!!! How was that!!!!!!!! Was it well accepted???? How did the audience react?????? (I'm stuck on my PC screen as if it were going to give me the answer!!)
Tom's cute ! Oasis couldn't play but he could ! so cute !!! such a lovely boy ! i'm so proud !!! ;) IT'S BEEN THE MOST FUN DAYS EVER, THANKS !!!!!!!
OH MY GOD! AN OASIS COVER? MY GOD MY GOD MY GOD! I WANT TO HEAR IT! PLEAAASE SAY THAT YOU'VE RECORDED IT! LOL
:))))))) I thought it wouild be Oasis. But, shame on me, I thought they don't have the guts to do it... Kudos, guys
HELOISA, ISA FROM BRASIL, SAO PAULO ********** WOW, what a crowd! Tommy with new shoes, heee... It seems the band are having a very GRAT show! Wow! Thank you for posting the photos and comments here, folks! XXXXXXXXXXXXXXXXXXXXXX
i can´t believe it an Oasis cover! keane...you are so so so great
GUYS YOU BETTER LEAVE THE CAR PARK PRETTY QUICK!!! It took me 1hr to move from the car park to the exit last night.
@Mrs_Pevensie: de Santiago :) y tú? Cuál es tu nombre?