Live blog from Newmarket
22.38: And with that, we'll bid you goodnight. Big thanks for the hundreds of emails and comments and tweets you've sent us throughout the blog - it's always great seeing them. Until next time...

(You can click this one to see a hi-res version)
(Oh, and just realised that - amazingly - we made a little profit from our betting today. Will be giving that to War Child.)
22.27: Lots of you emailing ontour@keanemusic.com asking to see tonight's full setlist. So here it is...
22.20: As Newmarket has a shutdown of traffic leaving backstage for about an hour after the show, the band have all jumped in their cars and headed off already. But they looked like they were buzzing as they came off stage.
22.18: This just in from Yasmin to ontour@keanemusic.com: "We're talking with some keane fans in twitter and we would like to know who is behind this INCREDIBLE LABOUR! We want to know who is behind the sign km and the liveblog! It's like a mystery for many of us xD"
The name's KM. Mr KM. :-)
(But thanks for the kind words)
22.13: And we're done. What a genuinely great show. Here are a couple of photos from during Crystal Ball...
22.06: And now they're playing their last song of the night! Crystal Ball. Better dash and get a pic or two...
22.05: A couple more from during Bedshaped (which was the last song of the main set)
22.03: The band are having an awful lot of fun out there, as this one shows...
And a nice one of Rich...
21.48: Somewhere Only We Know. Off to get more pics...
21.47: Nice one of Tom smiling at the end of IIAW. I wasn't exactly sure what a gig after horse racing would be like, but it really is a great crowd. They're so up for it.
21.45: More from IIAW, as the opening chords of This Is The Last Time strike up...
21.40: They're currently playing Hamburg Song, which is sounding as gorgeous as ever. But here's the first of a few photos from during Is It Any Wonder?
21.39: Seems fair to say that these folks are enjoying themselves...
21.29: Spiralling (woo!), so heading off to take some more photos...
21.27: After Under Pressure, Tom performed Your Eyes Open solo, with just his acoustic guitar.
21.26: Under Pressure sounded fantastic, and had an awful lot of people bouncing. It's busy out there too!
21.18: They're playing Under Pressure (the song they were rehearsing earlier). Off to watch / take more photos...
21.16: Quite pleased with this one of Tim...
21.15: Richard and Jesse
(We've just managed to get on the venue's wifi for the first time today!)
21.13: Holland in the house!
21.12: And another Tom one...
21.09: These are going to have to come one at a time with this internet connection! Here's Tom, against the night sky.
21.05: Back. More photos coming. They're doing Silenced By The Night at the moment, by the way. Sounds mighty.
20.56: Off to take some more photos....
20.55: And this is the start of the first song...
20.53: Here are some photos of them going on...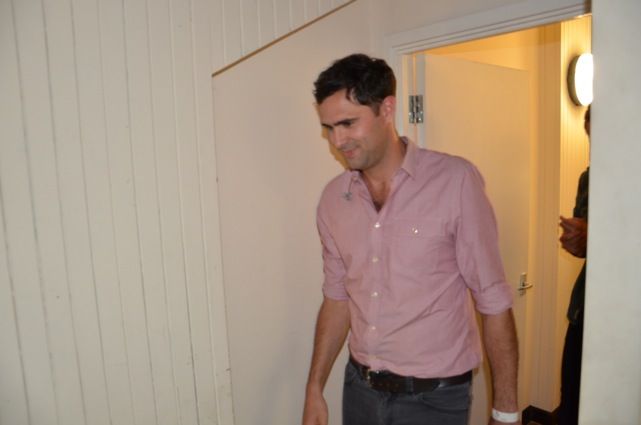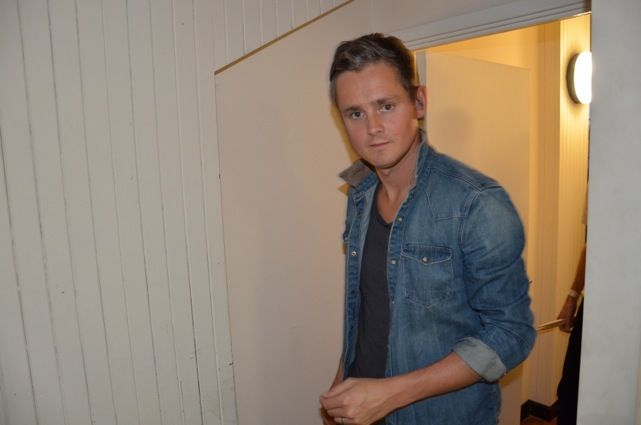 Um, sorry Jesse.
20.48: Bend And Break. And we can hear the crowd singing along from here.
20.47: Here's a pic of the band warming up. We've been doing these live blogs a while now, but it is SUCH a privilege to be in a room watching them perform together like that. They were rehearsing a song they haven't played for a while too...
20.45: They're on! And playing You Are Young! Pictures to follow (please Mr Internet.....)
20:31: The internet has decided that now is a good time to go really, really slow. Possibly because the last race just finished (we missed it, sadly) and everyone's going online...
20:28: This is how it's looking at Corrinne's house in LA (she emailed ontour@keanemusic.com)
20:16: Some really good captions coming in for what Richard's saying in the picture below. These are some of our favourites...
"I'm over those guys, I'll be the other Richard Hughes! A racer!" (Rebeca)
"There's no jockeys with their names!" (Juli)
"Hey, he is Jesse, most lovely guy!! But he is sleepy..." (Chi)

"This guy? No, he's not in the band!" (Rosmi from Peru - who loves Jesse)
Thanks everyone! We'd post more if the internet wasn't so blooming slow!
20.09: So, what do you think Richard is saying in this one? Email your caption to ontour@keanemusic.com...
20.02: The band have just been meeting some competition winners and guests, before the show (which isn't too far away now - as it's after the next race.)
19.58: Our £2 place bet won us £5.60. So that's nice. If we'd been bold and put the £2 on Forgive to win, we'd have won about £16. But let's not think about that.
19.54: Richard Hughes (drummer) is very pleased for Richard Hughes (jockey)
19.53: RICHARD HUGHES (JOCKEY) JUST WON THE RACE!!!
19.50: Next race is about to begin. COME ON FORGIVE! (We've gone for a place. So it only needs to be in the Top 2 of the 5 runners.)
19.48: Here's the sort of view that Tom saw (still two races to go - then everyone heads over towards the stage)
19.47: Tom's just been to have a little look at the stage...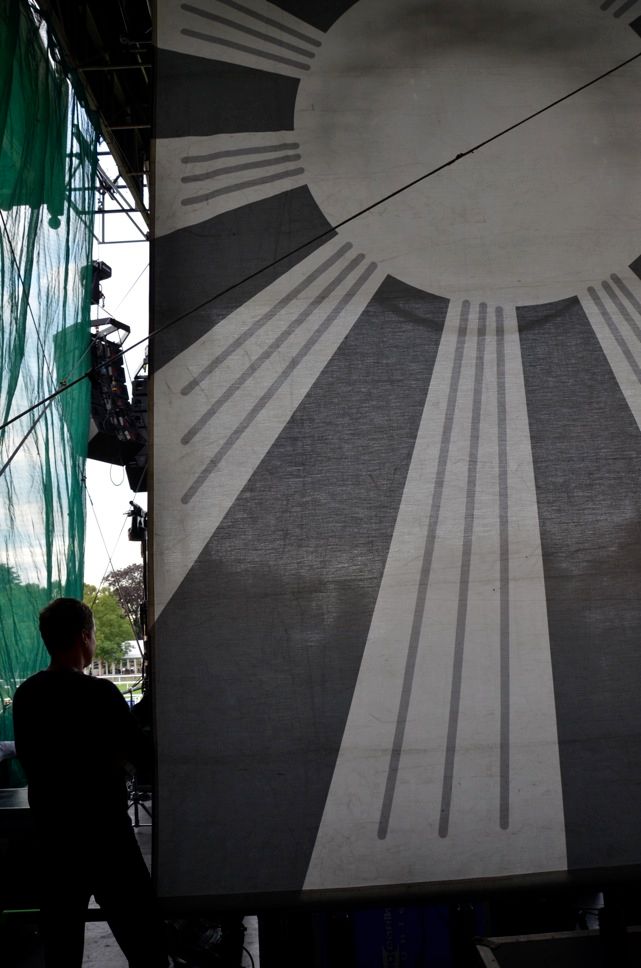 19.33: You're still emailing ontour@keanemusic.com from all over the world. It's great to see all your emails.
19.30: The next race (the fifth of sixth today) is another Richard Hughes (jockey) one. So we're putting our £2 on his horse Number 1, Forgive. Could it be third time lucky for Richard Hughes (jockey)? Could meeting his namesake inspire him to victory? Only time will tell....
19.29: Chris has emailed ontour@keanemusic.com asking us to bid goodnight to his two little boys, who've been following the blog. GOODNIGHT BOYS.
19.28: Tom's here! And here he is, studying the form (or at least pretending to). He's also been talking about today's England v Australia cricket match (the first day of five): "You just don't know until both teams have batted," he says, wisely.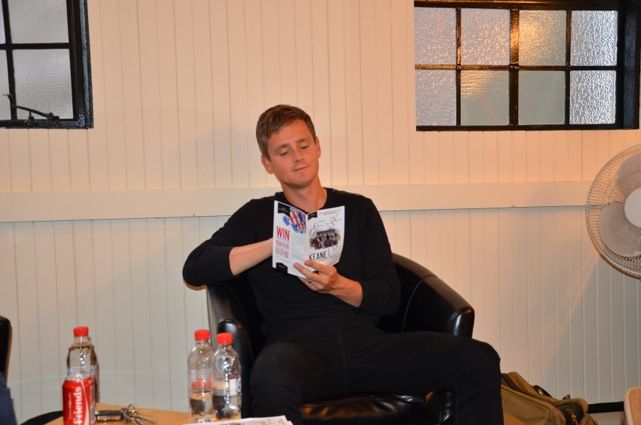 19.22: We lost. Again. By miles this time. Gambling = mug's game, as we may have said earlier.
19.15: Oh and here's the winner of the previous race. It's quite hard to keep up...!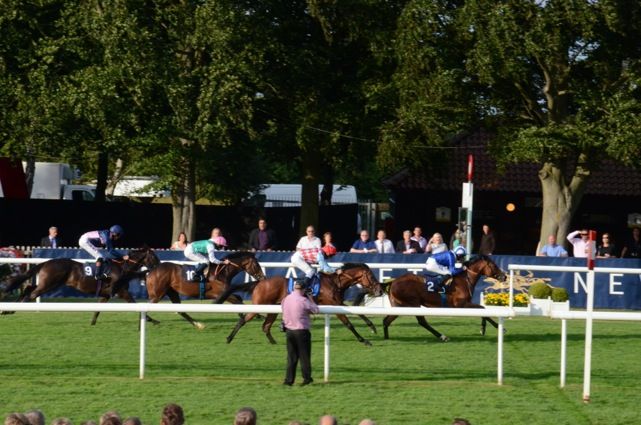 19.11: Horse 1 it is. WIlfred Pickles. Off to put the bet on...
19.04: Right, next race is in 11 minutes. Pick a number from below and put it as the subject of an email to ontour@keanemusic.com. We'll pick the most popular at 19.10.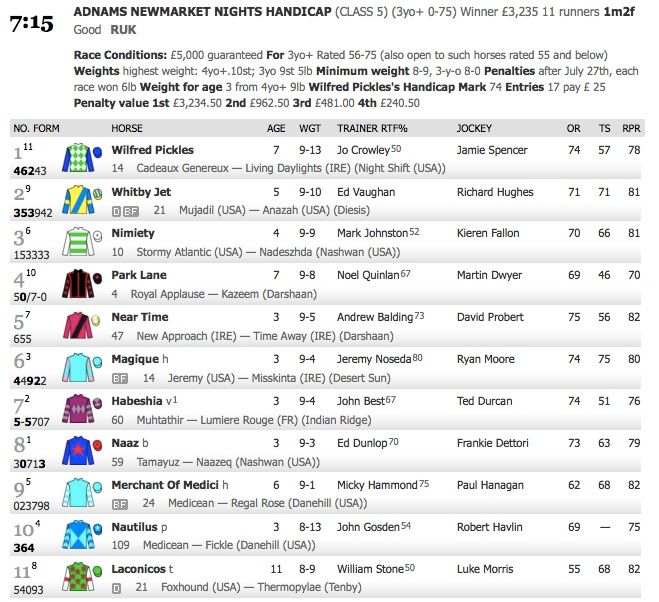 19.01: And here they are! Richard Hughes and Richard Hughes!
18.59: Sadly, Richard Hughes' horse only came fourth in that one (and we had it to win). Photo of the big Richard Hughes summit coming up...
18.44: The next race is about to begin. We're heading off for the big Richard Hughes summit after that. So we'll leave you with this picture of Richard with an AMAZING portrait of his cat painted for him by Marie. He loves it!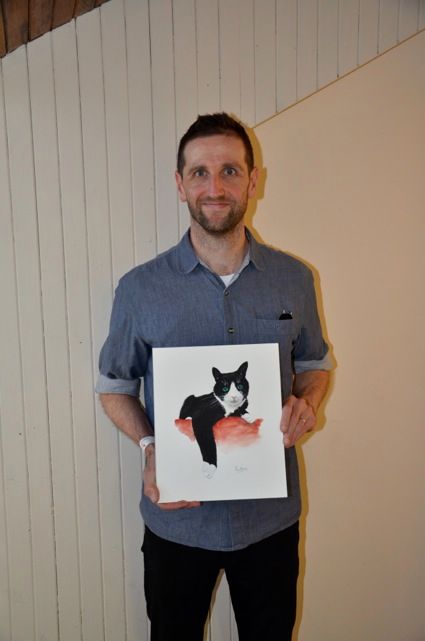 See you back here in a bit....
18.37: Here's a photo of Secret Ocean storming through to take third place in the last race...
18.33: Here's Tim, tinkling the ivories!
18.31: "All of Keane members didn't arrive there together???" asks Chi from Taiwan, to ontour@keanemusic.com.
No, as this show is fairly near to where they live (couple of hours' drive), they've all come separately. Tom is the only one yet to arrive (he was hardest hit by the traffic).
18:27: The next race is at 18.45. It's another Richard Hughes one so we will, of course, be betting on his horse, Sebastian Beach.
18:25: BREAKING NEWS: Richard Hughes (drummer) is going to meet Richard Hughes (jockey) in a few minutes. "I occasionally get abusive tweets when he loses!" says Richard. We will, of course, be there to capture this amazing coming together of RHs.
18.19: Look who's arrived!
18.18: Remember, here at km.com we do NOT condone gambling. But our £2 place bet just won us £9.80. Which at least means we can afford to put £2 on the rest of the races. :-)
18.14: NUMBER 5 SECRET OCEAN CAME THIRD IN A PHOTO FINISH! THAT MEANS WE WON! WOOOOOOOOO!
18.06: Secret Ocean is a big outsider (ie, it's not expected to win), so we've bet on the place (which means we still win if it comes in the first 3...)
18.05: OK, it looks like Number 5 is your choice (with 1 and 8 close behind). Let's go with that then. Secret Ocean - this is your time....
18.01: Richard just arrived! "You just lost me a fiver," says Colin.
17.54: So, the next race is at 18.10. The runners and riders are below. Email us on ontour@keanemusic.com with the horse number you think we should put our £2 on this time. Please put the number as the subject of the email. We'll go with whichever one is most popular by 18.05...
17.52: So here's how tonight's stage is looking. It's pretty much opposite the finish line, in the middle of the main stand (where we took that photo of the race from). Amazing to see so many Keane fans already waiting at the barrier!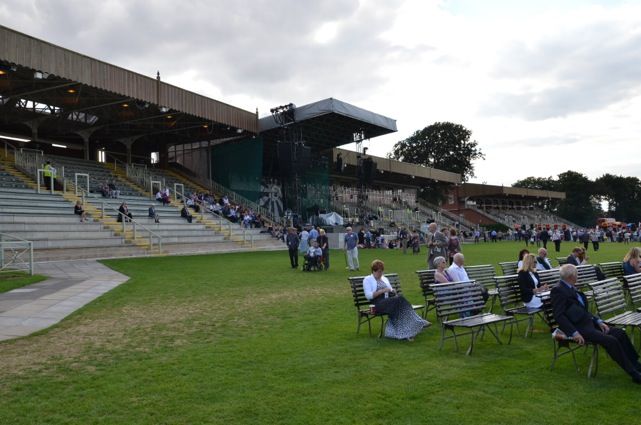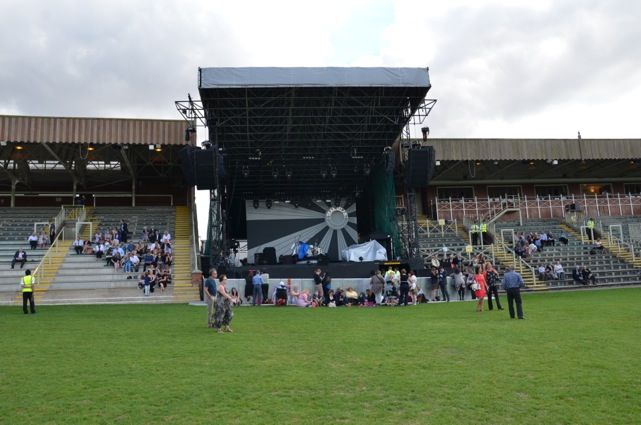 17.49: Love how all you live blog regulars are sending weather reports from all over the world to ontour@keanemusic.com, even though we hadn't even asked you to yet. So far, we've had emails from Pakistan, Chile, Argentina, Brazil, Portugal, Texas, Peru, the Phillipines, Germany, LA, Michigan and of course good old UK. And that's just from a quick flick through. Amazing.
17.45: Bad news. Royal Connection only managed third place, as our photo of the finish line will show you. Disappointing result for Richard Hughes and Keane fans everywhere. For the record, the winner was Chinese Jade.
17.42 : The race is beginning! Off to watch it. Back soon....
17.41: Here's a couple of photos of the dressing rooms...
17.36: This just in from Richard...
"I've stopped off in Cambridge for a coffee and chelsea bun from Fitzbillies, both of which were bloomin tasty, possibly the finest chelsea bun I have ever had (rivalling Foxcroft & Ginger in Soho, the previous holder of that title)… I'd send you a photo, but I ate it."
So that presumably rules out any chance of him being the jockey.
17.33: As there's a Tote nearby, we have now played £2 on Royal Connection to win. If it does, that means we'll win about £12. At this point, we should say that we do not condone gambling - we're just doing it so that you can join in the fun of the races. :-)
17.30: The first race begins in TEN MINUTES! You can see the full race card here. We're going to have to bet on Royal Connection - ridden by Richard Hughes! (Presumably not *that* Richard Hughes.)
17.28: And we're back. Still no band members here (sounds like traffic between Sussex and Newmarket isn't great...). But they should be here before too long.
17.15: Going to go for a quick wander and take some photos of the racecourse...
17.10: This, meanwhile, is a little horse we saw on the roof of the ticket office. Which is nice.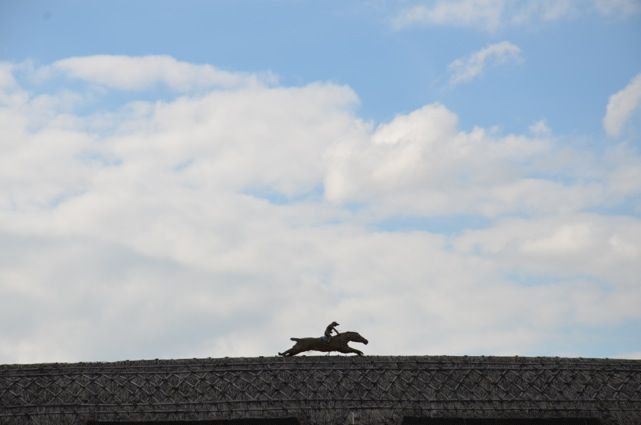 17.09: This is the flag on the way into Newmarket Racecourse...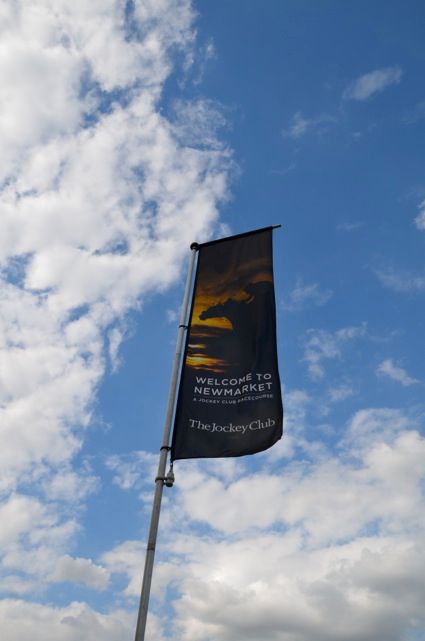 17.08: We're sitting next to the band's tour manager, Colin, today. He's just been saying how good the recent shows were in Portugal and Spain were.
17.05: The band are not here just yet. They're all on their way and should be here before long. Don't forget, you can keep in touch with us by emailing ontour@keanemusic.com. Always nice to hear from you.
17.03: We have a photo uploaded! And it's of some folks arriving into the racecourse (everyone looks jolly smart!)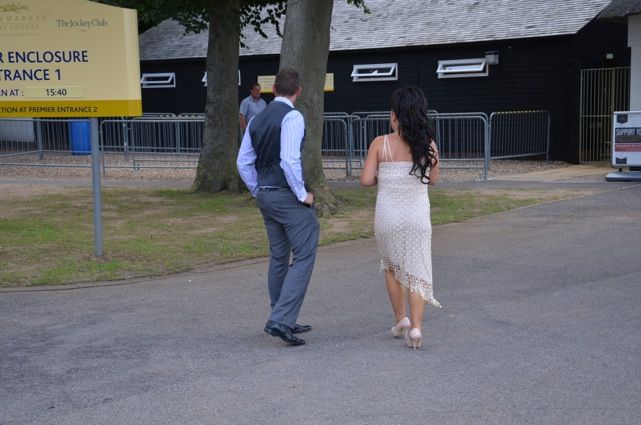 16:56: Oh dear. The internet here is verrrrrrry slow. This is somewhat disappointing...
Friday 9 August, 16:53: Hello! We've arrived at Newmarket. And we'll start posting some pics in a minute...
Thursday 8 August: We're pleased to report that km is heading to Newmarket Racecourse to live blog the band's headline show (which will follow actual horse racing!). Join us right here on the site for lots of behind-the-scenes updates and photos, before, during and after the show.
If you've not seen our live blogs before, here's the one from last year's show at London's O2.
Or, if you fancy coming to the Newmarket show, some tickets are still available from here.
Comments (216)
This new liveblog is really nice and fun! I enjoyed reviewing the band felt in the dressing room, from their faces you can see the enthusiasm and the love they put into their work! Keep Keane always so dear, you know convey strong emotions with your music! A hug from Sabrina from Catania, Sicily!
TOM YOU'RE THE MOST AMAZING MAN IN THE WORLD I LOVE YOU BABY
I never knew there was a jockey called Richard Hughes, and on Sunday he was on the sports news! Being sad, I have been looking for the boy's names on the Coca-Cola bottles as well as people I know. I was delighted that I'd found a Thomas, but Timothy's, Richard's and Jesse's are thin on the ground! 'You can't tell until both sides have batted', oh Tom you do make me laugh. Isn't that kind of the whole point of cricket, darling?!
Just a whole lotta magic all over again! MWAH!
HI GARS *** just a few words to tell you that I have received my tickets for kenwood I'm very happy it just remains me to make my bags and set of to England!! *****A big thank you to all for this wonderful moment with a passed you NEWMARKET** LOT FO LOVE AND BIG KISSES TO ALL FROM FRANCE °°
ISA, from Brasil, Sao Paulo *** Wow, lots of pics and comments, great! I still am having the conjuctivitis and the flu -- oh God, but here I am to say hello, a bit late, and say I love you much dear band! Lots of love! XXXX
Amazing pic :) thank you so much! would you consider to blog live from South America someday?
this is great! you have helped War Child without realize! great job guys! you are the best, always helping and making smile ♥ loves..from Argentina love you....
Excellent show last night as always and a great atmosphere. My 5th time I've seen them and they keep getting better and better. Just wish they had done my favourite - Perfect Symmetry. Wonder why that wasn't included.
Brilliant concert from Keane yet again - but the stage was too small they deserved better! Lovely setting and brilliant singing from Tom and Tim, Richard and Jesse wer brill too !
I really enjoyed it last night. Thank you.
OH MY GOODNESS!! I'M WITH OPEN MOUTH :o... GREAT PHOTOS THANKS A LOT, I LOVE SO MUUUUUUUUUUUUUUUUUUUUUCH GUYS MY BEST WISHES FOREVER SUCCESS :)) GREETINGS FROM MEXICO AND FROM GAB.
Many thanks for sharing your afternoon / evening with us!
AMAZING PICS!!!!!! THANKS GUYS. TOM I LOVE YOU
Beautiful pictures of the concert! Awesome Live Blog!! Thanks so much, hugs from Peru. :D
Dear Mr. KM, tk you so much for the amazing Live Blog!! So very happy for having the chance of living the magic of our beloved Band, and all the emotions of this fantastic day! Tks for the gorgeous photos, for all yr kindness and attention! Many congrats to 'Our Boys' , and I'm looking forward to seeing them Live again next Sunday in Portimão! Lots of love from Portugal ***
Thank you so much for the fantastic live blog, the amazing photos and, of course, the setlist, Mr. KM! :) It was a pleasure following it during the whole afternoon/evening! I'll be looking forward to the next one! And as for the boys... I'll see you soon again in Portimão and London! Can't wait! Lots of love from Portugal!
Great Job Mr KM!!!!! at least we know u are a Mr
thank you Mr. KM, then :D
Thank you so much, Mr. KM! :D You rock! Can we please have a photo of the setlist in the end??
BUENISIMO UNDER PREASSURE!!!!!!, DESDE ARGENTINA ANA Y AGUSTINA!!!!!!!
yo quiero estar ahy y gritar a todo pulmon :) los amo keane
wow! Tom, Tim, Richard & Jesse :3 Nice pics! I love your blogs too :) Regards! from Mexico :3
Under Pressure!!!!! I want to be there!!!!
OMG!!!! LOVE Tom, against the night sky.
OMG is a beautiful Tom pic!!!!! im taking it
BRAVO TO super jockey for this this adrenaline rush I see that I can rely on you to be rich RICHARD! thank you for this very nice time shared with us on this racetrack, I see more than you were in good company they are lucky I would have liked to place ** the best is yet to come that show either great I am with you wholeheartedly and then I console myself that diasnt August 25 I will be with you at the foot of the happy scene applaud you THANK fOR PHOTOS full of big kisses to all I love you
Love the live blog.. greats from Holland. Jeanet. XXX
RICHARD, RICHARD, RICHARD, RICHARD, RICHARD :) I LOVE YOU RICHARD
Hm, so strange, laying in bed with my 3 lovely little boys and my lovely big man :-), and on the other side of the water my favourite boys who are giving the best of themselfses... Glad I have my Windowsphone to follow the blog ;-) Lots of love, Ilke from Belgium
Dear Mr. KM...it must be so magical to assist the Band's rehearsal...such a chemistry they share...I'd love that too, that's for sure!!! Tks for the amazing live blog and awesome pics, getting emotional here!!
I wonder when there will be 200 comments.
Im singing and Im from Argentina...can u hear ME ?? Wich song is the one they´ve been rehearsing!!!!!! PLease!!!!!
The crowd'll be confused. They'll be trying to sing the new remixed version.
No more rehearsing now. Real thing now.
THEY'RE ON!!!!!!!!!!!!!!!!!!!!!!!!!!!!!!!!!!!!!!!!!!!!!!!!!!!!!!!!!!!!!!!!!!!! !!!!!!!!!!!!!!!!!!!!!!!!!!!!!!!!!!!!!!!!!!!!!!!!!!!!!!!!!!!!!!!!!!!!!! !!!!!!!!!!!!!!!!!!!!!!!!!!!!!!!!!!!!!!!!!!!!!!!!!!!!!!!!!!!!!!!!!!!!!! !!!!!!!!!!!!!!!!!!!!!!!!!!!!!!!!!!!!!!!!!!!!!!!!!!!!!!!!!!!!!!!!!!!!!! !!!!!!!!!!!!!!!!!!!!!!!!!!!!!!!!!!!!!!!!!!!!!!!!!!!!!!!!!!!!!!!!!!!!!! !!!!!!!!!!!!!!!!!!!!!!!!!!!!!!!!!!!!!!!!!!!!!!!!!!!!!!!!!!!!!!!!!!!!!! !!!!!!!!!!!!!!!!!!!!!!!!!!!!!!!!!!!!!!!!!!!!!!!!!!!!!!!!!!!!!!!!!!!!!! !!!!!!!!!!!!!!!!!!!!!!!!!!!!!!!!!!!!!!!!!!!!!!!!!!!!!!!!!!!!!!!!!!!!!! !!!!!!!!!!!!!!!!!!!!!!!!!!!!!!!!!!!!!!!!!!!!!!!!!!!!!!!!!!!!!!!!!!!!!! !!!!!!!!!!!!!!!!!!!!!!!!!!!!!!!!!!!!!!!!!!!!!!!!!!!!!!!!!!!!!!!!!!!!!! !!!!!!!!!!!!!!!!!!!!!!!!!!!!!!!!!!!!!!!!!!!!!!!!!!!!!!!!!!!!!!!!!!!!!! !!!!!!!!!!!!!!!!!!!!!!!!!!!!!!!!!!!!!!!!!!!!!!!!!!!!!!
Well done Keane on all your other events. Do it today.
Internet isn't messing with me.
RICHARD, TIM, JESSE Y TOM LOS MEJORES DEL MUNDO :) REGRESEN PRONTO A MEXICO ♥
AMAZING!!!!!! I LOVED TOM'S PICS THANKS FOR THIS LIVE BLOG. TOM I LOVE YOU MORE THAN ANYTHING IN THE WORLD
When's the Keane band playing?
internet is making fun of us
Aaaw, c'mon, internet, don't let us down!
I've never actually posted on a live blog before, but this is awesome. Shame you can only contact the band via email. Earlier I was only bothered about the new remix when awesome stuff came! I'll comment early next time, to say how good these blogs are and etc. Nearly time for the band to start playing. I look forward to the starting post. I want to know how excited they get. Of course, they'll just keep going on about it and that'll be boring! When is the last race?
Keane'll be playing soon. I want to be at Newmarket!!! It's exciting!
Why is Tim so far??? get closer for pics Tim please
Many girls ._. Envidia...
Hurray!!! Congrats To RH 'the 2nd'! For sure the meeting with *Our* Richard (1st, veeery 1st!) gave him luck! #keanealwaysdoingmagic
*sigh* my heart skips **** tc, your spirit shines through your eyes & smile
Great!!!! Congrats to Richard!!!!!
BRILLIANT!!!!!!!!!!!!!!!!!!!!!!!!!!!!!!!!!!!!!!!!!!!!!!!!!!!!!!!!!!!!! !!!!!!!!!!!!!!!!!!!!!!!!!!!!!!!!!!!!!!!!!!!!!!!!!!!!!!!!!!!!!!!!!!!!!! !!!!!!!!
"19.50: Next race is about to begin. COME ON FORGIVE! (We've gone for a place. So it only needs to be in the Top 2 of the 5 runners.)" Easy. Easy Peezy. Eazy Peezy Lemon. Eazy Peezy Lemon Squeezy. Am I being humorous or is it just silly? You know, the easy thingy.
Love you Tom!!! You look gorgeous! (well, you always do :D) ! Wish you all an awesome gig!! You'll fill the whole place "with hope and light"!
Please I´m not there but I want to hear you guys...we want live stream
YEAAAH! THUMBS UP FOR RICHARD HUGHES THE JOCKEY! \o/
YEAH YEAH TOM! ARE YOU READY? :D
Richard can make a wish and it will be fulfilled, because not every day you meet someone who is the same name as your. Tim I love to see you smile. I love guys kisses from México.
Keane need to view these comments! Not just the emails!!!
Can't wait to see you guys in Kenwood House !!!! Love from France.
Tom looks very handsome in black... matching the couch...beautiful long neck
yay, my first ever liveblog! I'm laughing out loud with. Mr KM HASUHASUAHUSAHSUAH and, btw, the boys all look lovely today :)
Keane ought to read these comments.
Tom's finally there! photo knb311_zps5e6a1a97.jpg Does the photo work?
Hi Tom! Looking deadly handsome as usual! :)
Hello, guys! Cheers from Venezuela! Come here soon!
Richard Hughes! Richard Hughes! Richard Hughes! Richard Hughes! Richard Hughes! Richard Hughes! Come on, Richard!
Hi guys!!! i love u!!!! From Argentina :D
HAHA "he says, wisely" I LOVE YOUUUU TOM!! HI HI !!! ARGENTINA IS HERE
Was Richard Hughes (horse jockey) cheered on by the audience a lot? Keane would have to of gone in early so the odd wouldn't be 1-0.0000001!
I wonder what Keane'll go for.
Rich Hughes little Bis hahaha
Are the middle names the same?
When is the next Richard Hughes race?
Two Richard Hughes! The world just exploded!
Two Richard Hughes' is better than one! Hahahaha. Gotta love it! :D
OH GUYS, NO MATTER! ENJOY THE DAY!
That's a lovely portrait. Good job Marie! How comes Tim got there and first thing he does is playing his piano? O.o #addicted. Abbracci, Simona
Aww...so beautiful the painting from Pitney! You're an Artist , Marie! ***
Love it! Marie, that's a fabulous painting of Pitney! Thank you for the liveblog, friends, and a huge wave "hello!" to my favorite band and my Keane-loving friends from across the ocean who are there today, camped against the barrier. Looking forward to great show photos soon!
woow amazing portrait indeed!!
I want to see Tom!!! Mexico loves you!!
Will Keane's bet win the horse race? 1st or 2nd please.
RICH YOU LOOK HANDSOME! LOVED THIS PICTURE!
Woooow, what an amazing portrait! You're talented, Marie! :)
How many races are there left? When Richard Hughes isn't on, I think Keane should bet on the horse with the highest odd. Go for the big money, Keane!
Loving Tim's new shirt! And jeans!
Im not quite sure what this is about but yet Here I am, to support our guys...Is Keane going to play??
HIHI TIM! YOU LOOK HANDSOME
aww por Tom, can't wait to see him !
I'm entertained by the races on this blog. In the last race the odds didn't calculate to what Keane should of won for 3rd place. Best of luck for Richard Hughes (horse rider)! What odds do they have?
Wow, Sebastian Beach is such an awesome 'musical' name for the horse of RH 2!!! :D Looking forward to the meeting RH RH!!!!
COMING SOON "THE MEETING" hahaha
Richard, you need to take a picture with him (Richard H.), you know that, right? ;)
son hermosos richard y jesse :) I love you
Ciao!!!!! How are you??? So happy to see you again! Baci, simona
I love Keane, i am at job right now, but reading All about live blog, thanks KM , carol
YOU'RE HAVING A GREAT DAY! ENJOY! WE ARE HERE WITH YOU....
Tom and Tim still stuck in traffic ?
JESSE RICH YOU'RE BEAUTIFUL!! HANDSOME!!
JESSE MASTER OF POSES QUIN
Hi Richard and Jesse! :-)
OOOH, HI THERE RICH AND JESSE! :D Good to see you guys!
YEAH YOU WON!!! LETS CELEBRATE IN MA HOUSE EVERYBODY'S INVITED
:D good ... eh .. where are the boys? hehe
WOHOOOOO! GO SECRET OCEAN! :D That horse felt the power of Keane, ahahahah!
Don't forget your fans in mexico!!
HI HI RICH! SLEEPY JOE YEAHHHHHHH! :D
Colin reminded me of a certain 'We had a show in ten days' many years ago haha!! Hey guys, the venue reminded me a lot of Asuncion Jockey Club last year... amazing memories!!! Have fun! ♥♥♥♥
Richard,show us your happy face!
Richard is here! Hi, Rich!
I VOTE FOR MY LITTLE FRIEND!
I wanna see Tim entering the stage riding an horse!!! #toomuch? - Ok, that's enough...Hugs everyone. Enjoy the evening! Simona
que emocionante ya quiero ver a los chicos de keane :) saludos desde mexico
Seeing this pics makes me glad and sad at the same time! I want to be there so bad!
THE STAGE IS AMAZING AND THE PLACE TOO!!! MY BEST WISHES BOYS!
We'll always be here for you, @keaneofficial!
Richard Hughes *DrummerOfOurHearts* knows about Richard Hughes *rider*, but does Richard Hughes *rider* knows about Richard Hughes *DrummerOfOurHearts* ?
ARGENTINA IS HERE!! WE LOVE YOU SO MUCH KEANE!
OH NO MATTER! RICHARD HUGHES YOU'RE THE BEST! WE LOVE YOU KEANE AND WANT TO SEE YOU SOON!
What a beautiful day! I wish I could be there!
the dressing rooms are cozy!
Good lcuk with Royal Connection !!
I WANT TO SEE! ENJOY THE COFFEE!
Ay, que lindo! Quiero estar ahi para recibirlos!
YES YES BACK SOON PLEASE! LOVE YOU AND WAIT!
OH I LOVE IT! IS AMAZING! KEANE KEANE WHERE ARE YOU??? ♥
Hi, Richard! Hurry up and bring your coffee with you! Anxiety is killing me!
HAHAHAHA OMG RICH! I WANT TO SEE NOW!
Ha, ha! Keane is late in their own party!
I WANT TO SEE YOU KEANE! COME ON I LOVE YOUUUUUUUUU
Hello everyone! It´s the first time that I take part of this! I´m quite exciting! Greeting from Peru!
Please, Follow me guys!!!! I'm a big Keane fan!!!! @chappersgirl ):
HIHI COLIN! WELL, ALL KEANE SHOWS ARE AMAZING, AWESOME, WONDERFUL.. ALWAYS!!
Hello dear All !!! I'm following from Portugal with great excitement, and yes, Colin is absolutely right, I was in Cantanhede/Portugal and it has been overwhelming!!! And the most amazing is that I'm going to live all the Magic again next Sunday in Portimao! Tks Guys, you do make my life soooo much happier! Have a blast today, and massive thanks for the Live Blog, makes me feel a bit as if I was there too! Love you! XX
In Paraguay we are so excited!!!!!!..... :)
Love all your pics! Looking forward to seeing KEANE! Argentina is here!
I need KEANE in Mexico!!!!!!!!! asdhfjbgvnkbkj ♥
Hello everyone from Buenos Aires! Today is my birthday and I would have loved to celebrate it at Newmarket with Keane!! I even thought of traveling to the UK in August bud sadly I can't atm. So thank you Mr. KM for the live blog and making us feel closer! Lots of love ♥♥♥♥
There are 5 crazy Keane fans following the blog from Karachi, PAKISTAN! Eid Mubarak from us! :) and happy Keane blogging Km! - Wajeeha, Anam, Aleeza, Aleena and Shiza
GREAT! WAITING WAITING. I WANT TO SEE IT!
Hi there! :) Following the live blog from Lisbon, been looking forward to it since this morning! I've been to the gig in Cantanhede, in Portugal, and it was AMAZING! Colin is absolutely right on that one! ;) Seeing the guys again next Sunday in Portimão, CAN'T WAIT!
Follow me dont be cruel kdfhskfhsk :( @pamelasechsling
I always wanted to ride a horse ): haha
Say hello to Colin! Ask him to pose for a pic ;)
I LOVE YOU GUYS WUWUWUWUWUWUWUWUWU - from Hermosillo, Mexico
Wuwuwuwuwuwuwuwuuw - from Mexico
Tell Colin i seen him at the back of the stage at Cornbury last month i was athe front barrier opposite Tom.
See you guys on 25 August. I can´t wait for this day!!!!
I LOVE YOUUUUUU GUYS........ I'M VERY VERY HAPPY WATCHING THIS!! FROM ARGENTINA ♥♥
hello!!! kisses from Brazil
Oh woow they are so lucky I wish I was there! :D xxx
Mexico Loves you guys!!!!!
Hello from Monterrey Mx !! : )
Hi!!!! I love you!!! lot of kisses from Argentina! come back soon!
Hello from Cape Town, SA! So exciting to join in the fun with you all! x
I cant wait!!!!!!! I woke up early just for this!!
Please put a pic of Colin up and tell him i love him thanx from Babsx.
looking forward to what it's coming! :) kisses from PORTO- PORTUGAL
Yay! Finally! Hello from Thailand!
Love to Tom, Tim, Rich, Jesse and lots of love 2 Colin xxxxxxxxxxxxxxxxxxxxxxxxx.
Hope all the Keanies at Newmarket have a Keanetastic time love from Babsx.
finally!!! Hello!!! from Taiwan!!!!
Waiting patiently ... From Karachi, PAKISTAN!
I'm home. A nice and refreshing ice-cream, and this blog. Perfect Friday afternoon! Love from Florence-Italy
I want very pictures. Grettings from México.
Every Keane fan in Peru is waiting :D
Logged in & ready for some live blog fun! ~Lindsay in Michigan
Hello! Is it starting now?
Just relaxing in hotel after 200 mile trip can't wait hope these showers clear tho ps any tips on the horses haven't got a clue!!!!!!
Thank you guys I'll be there from Ecuador! xxx
Just having coffee in Newmarket - after 300 mile trek to get here! Looking forward to Keane tonight x
How exciting! These live blogs are the best!
YOUR LIVE BLOGS ARE AMAZING CAN'T WAIT. TOM YOU'RE MY REASON OF BEING I LOVE YOU MORE THAN ANYTHING IN THE WORLD