Here's a bumper crop of Richard's crowd photos from Keane's last 11 shows. Click on the pictures to get the hi-res versions (and don't forget you can add your own photos to our Live Archive).
LISBON - 20 OCTOBER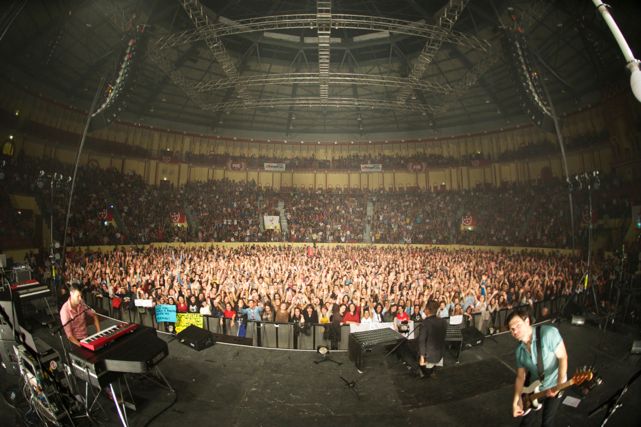 PORTO - 21 OCTOBER




PAMPLONA - 23 OCTOBER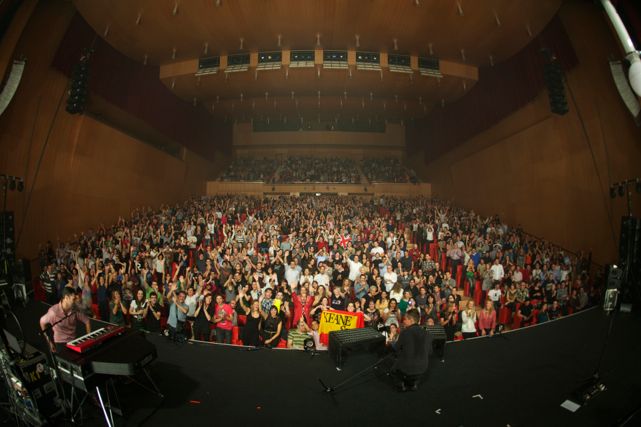 BARCELONA - 24 OCTOBER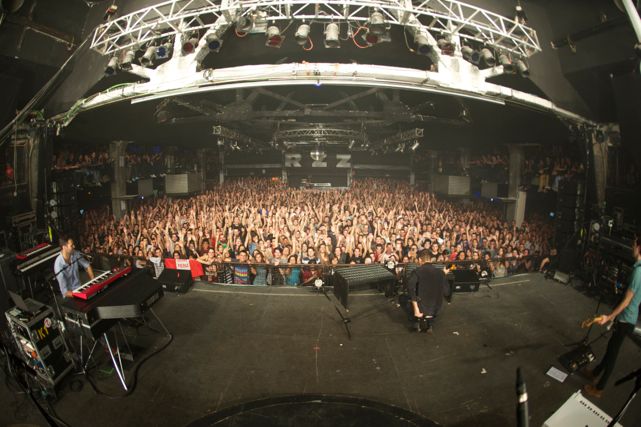 BOLOGNA - 26 OCTOBER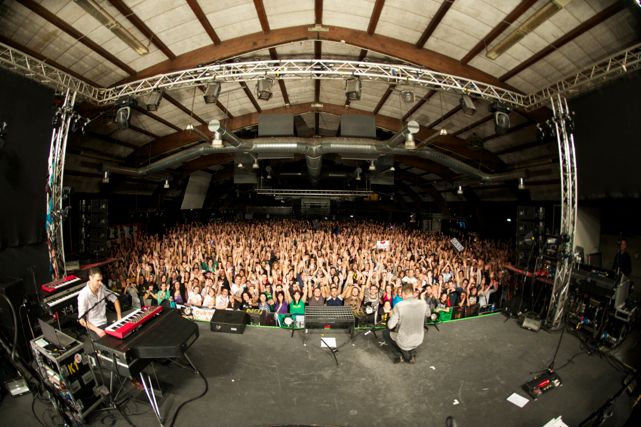 ZURICH - 27 OCTOBER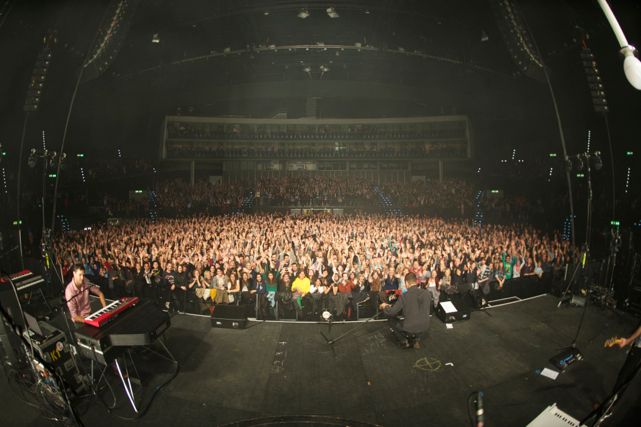 LJUBLJANA - 29 OCTOBER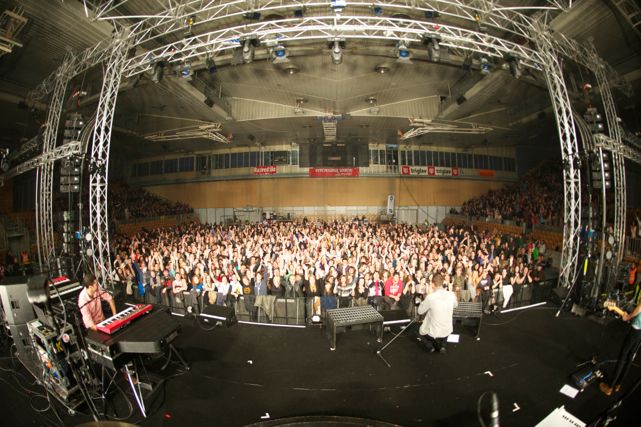 BUDAPEST - 30 OCTOBER




VIENNA - 31 OCTOBER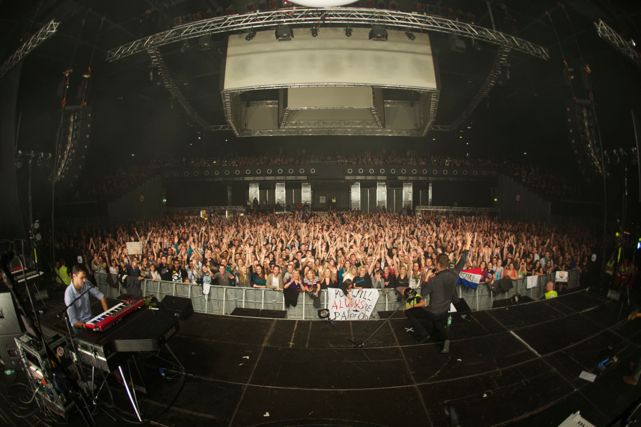 PRAGUE - 2 NOVEMBER




BERLIN - 3 NOVEMBER


Comments (43)
really looking forward to concert in nottingham tomorrow!! taking my son and he can't wait to see keane again (saw them in leeds academy in may) and he hopes to get jesse and tom's autograph this time!! i am Troy Davis
Can you upload the picture you took in Stockholm?
Amazing! I'm waiting eagerly for the crowd photo from your concert in Stockholm!
Hi Richard, waiting for the next pictures. Please. Thanks.
I have lived my dream of seeing KEANE live! It hapenned in Budapest, although I'm from Romania! Thank you guys for such an amazing night! Romania loves Keane!
He escuchado tres veces a Tom Chaplin cantando con Neil Hannon. "Love what you do". Basándome en mi oído particular, Tom tiene un timbre de voz muy muy dulce. También tiene el tono alto. Los tonos muy bajos ó duros melodicamente no son tant apropiados para él. El los canta porque está en un momento maduro como singer i personal. Se le nota cómo se sabe desenvolver. Es reiterativo pero las melodías creadas por Tim Rice se acoplan como un guante se seda a la mano. Petons. Barcelona. Marisa.
Budapest shot. :) Thanks to Richard for these pictures! All sold out gigs, congratulations to you Keane! I have seen some uploads about the Hungarian show and now you know you have a massive group of fans over there.
Tom Chaplin ha cantado con Neil Hannon, tocando el piano. De la The Divine Comedy. Neil ha trabaja con Thomas Walsh en el segundo àlbum basado en el cricket. Deporte que le gusta mucho a Sir. Chaplin. La cultura del cricket que hay que conocer para entenderlo y amarlo. Hablar de Tom Chaplin és hablar de cricket i música. Barcelona. Petons.
Berlín, "She has no time" preciosa. La voz de Tom està espectacular. Keane és = Voz Tom+ritmo exacto Richard+Genialidad de Tim + trabajo incansable Jesse = 10 Petons des de Barcelona. Marisa. Una idea per una cançó: Avui hi som, demà potser no, però les possibilitats son infinitas. us estimo a tots quatre. Tim especialmente.
NICE PICS . TOM I LOVE YOU MORE THAN ANYTHING IN THE WORLD COME BACK TO MEXICO SOON
Ciao Richard, che bello, quante foto hai messo del vostro ultimo tour, sono contenta! Mi fa tantissimo piacere notare che hai inserito anche la foto del teatro di Bologna dove riesco a vedere benissimo gli amici del forum italiano!Un abbraccio e grazie per tutte queste immagini che si possono ingrandire, io adesso scappo perchè tra un pò dovrò andare a fare lezione di musica d'insieme agli alunni di prima media! A presto, by Sabrina from Catania, Sicilia!!!
ISA, from Brasil, Sâo Paulo *** Thank you for sharing, lots of love to my favourite band! XXXXX
Rich, thanks for sharing so great photos. Beijos, Regina.
Me, my brother and my mom we're on pic of Bologna !!! Thanks Richard for this photo.
wow, the venue of Prague looks awesome! Thanks for uploading those shots. I really thought the loudspeaker in Vienna was almost at my headposition and hanging even lower than on this pic. My brain is bad. Though it was a verly lovely gig. The Berlin gig was good, too, but quite hot & sticky. Your easily pissed off fan, which still likes music of Keane. I will never forget my travel from Munich to Berlin as a part of one of my tooth break of 5 minutes before boarding my plane. (never eat before or during traveling) Gladly, nothing serious. (i´m just old and falling apart like a zombie, lol) And thank you very much for playing She has no time in Berlin! This is a dream which came true for me to see it at least once live played. As I missed earlier gigs even I liked H&F at the very first time I´ve heard it in 2004.
Great night and great experience in Prague :) This is our best concert I've ever seen....thank you very much...:)
this is very nice is a very very nice detail from Richard. have to be very good to finds oneself in a photo of him on km.com! I would like to ask, if it was too much trouble, a photo of the crowd from México on February 27, 2009 ... see ... is that it's the only concert of Keane that I could to attend. Please please me. guys I love you a lot. Kisses for everyone I'm happy to be here in Km.com again.
Lovely Richard..what an amazing pics! The gig was spectacular more than we ever imagined..this is my 2nd Keane Live Concert and again you all blow my mind! Thank so much for your Kindness also for givin us your Drumsticks my nephew was so happy! This was his first concert with his young 13 years! :D Kind Regards and Big Hugs from your Paraguayans Fans in Vienna :) Dulce, Diana, Estrella and Max!
Finally!! We've been anxiously waiting for these photos! Thanks for posting them, i had the best night ever friday 26th in Bologna!!! Thank you Rich for the chat and the photos in Piazza Maggiore, and thanks to all of you four for giving me such a bunch of emotions on my first concert... ITALY LOVES YOU, no matter how many we are, we tried to show you, the hardest we could, all our love and our admiration for you guys :) And as Tom said that night... CI VEDIAMO! See you very soon guys, lots of love - Ilaria (from Salerno!)
So nice to see all these pictures, especially the one of Bologna crowd :P I can see all my lovely friends smiling and waving in the first rows, how lovely! Thank you Richard! - Simona -
Wondeful and I thought I missed the shot....but I didn´t. Great shot and thanks again. Zulu Winter was great, they did a good job. Hope we will see us soon in Berlin. Love ya.
Great pictures. I'm intrigued as to how you're going to take your pictures at the "inthe round" concerts. I look forward to finding out - see you in Nottingham :-)
Amazing pics! I hope to see one of the argentinian crowd very soon :) xx
Wonderful experience ! Just hope that to us again in the Czech Republic will arrive as promised Tom. Richard, Tom, Tim and Jesse - you are the best !!!
AWWWWWW QUE ENVIDIA!!!! PLEASE COME TO COLOMBIA!!!!!!!!!!!!
Do you want to know how to be so lovely? Richard has the answer, because this is what he is: a lovely guy.
Thanks a lot Richard for these very nice shots!! I can see myself among the Zurich audience ;) Which camera do you use to have such a wide angle? D-25 before London :-))
Please come back very soon to Budapest,Hungary! :)
Dear Rich! :) Thank you for the pics! :) We Hungarians we waited for you very much! :) The concert was very good! :) The mood was very good! :) We love you very much! :) Please come back very soon! :)
I can see to my friends in Barcelona with the flag of my country PERU :'') ... thanks a lot Richard!!
Oh yes, Gudrun and I can also see you happy on the Berlin-Crowd-Shot! Looks like you had a very good time there with our beloved boys ;-) See you!
I can see your happy smile beside us, Sylli, and our roses on the mic stand as well as on Tim´s piano - GREAT!
YEAAHHHHHHH, I CAN SEE ME THERE! THANKS FOR THE AMAZING PHOTO (THE DEFINITION IS EXCELLENT!) LOTS OF LOVE FOR ALL, SEE YOU SOON
These are amazing! Prague
Fantastic photos, fantastic crowds, they all express so well the magic of the moment...!♥ Tks a lot Richard! Cheers to all, love from Portugal♥
Nice pics, Richard!! It's so beautiful seeing all ourselves enjoying such a great moment from an immense view. The best one in Barcelona, no doubt, haha. Best regards, guys!!!!!
Great photo of crowd from concert in Prague :) ! I'm there :D Good idea to photograph your fans at concerts :))
Wonderful pictures! Can't wait to see you guys in Belfast at the end of the month! :)
very nice pics...especial Prague...´cause i´m there
Great pictures! Please upload them to Facebook so we can tag ourselves! PLEASE!!!
Well done, Richard ;-) ;-) ;-) Love it! Next time we meet (perhaps in Munich?) let's have an "Erdinger" together in Bavaria! Many greetings!
Amazing shots, Rich. I missed them! Someday I'll be in your crowd shots! Many hugs from Colombia!!!
Gracias Richard por tener estas atenciones con el público. Es espectacular ver la gente con los brazos levantados y siguiendo el ritmo. Es una visión panoràmica que nosotros no podemos tener y que tu nos ofreces desde la batería. Es genial. Besos Richard. Barcelona. Marisa.